This page contains references to diamonds or engagement rings from different companies. Sometimes I do receive a commission when you click on links and buy the products.
For centuries the diamond has been a symbol of love, a stone given to a person as a representation of everlasting love. There is no other stone out there that will bring the same amount of excitement that comes from receiving a diamond and as a result of that excitement the first question that is usually asked by friends is "How big is it?"
When discussing diamonds the first thing that people usually talk about is the carat but out of the 4 C's, carat is the least important quality yet is the one factor that will disproportionally influence the price of a diamond – The higher the carat the more a diamond will cost. This is because higher carat stones are much harder to find and as a result their scarcity makes them very expensive to purchase. This is something to think about when thinking about your own budget. A perfect example to show the fluctuation in prices of a single heavier stone is of a single solitaire stone made from a 2 carat diamond. The price of this diamond may be up to 4 times more expensive than a piece of jewelry which is made up of lighter stones to equal 2 carats.
The history of the carat
The word carat (not to be confused with karat – the measurement of gold purity) comes from the Arabic and Greek word for the Carob tree; Qirrat in Arabic and Keration in Greek. The Carob seed was used as a measurement of weight against metals such as gold and stones such as diamonds and gemstones and was, for many years a relatively consistent and reliable measurement of weight for trading purposes. In the early 20th century The Fourth General Conference on Weights and Measures adopted the measurement of carat for use in measuring the weight of gemstones and by the 1930's, carats were used across the whole world for giving a unified measurement of a gemstones weight and the practice has continued since.
How is a diamond measured?
A carat is a measurement of weight – One carat is equal to 200mg, which can then further be divided into points. One point is equal to 0.01 carat with 100 points being in a full carat, a 50 point diamond being half a carat or 50 points and so forth. It must always be remembered that carat is weight and not physical size. This common misconception can often trip up the uneducated customer into purchasing a stone which looks large on the surface but has a slim profile and so a certification from the GIA or AGS is the best way of ensuring that the diamond you are choosing is of the correct weight. The way in which a diamond has been shaped can also have an influence upon how big the diamond looks – slim and elongated shaped stones can often look bigger than a round stone and so the measurement of the stone should not take precedence over the actual carat weight. Often when choosing an item of jewelry there may be several stones present within the setting, the total carat weight will include all of the stones – something to note when choosing pave or side stone rings.
The table below shows a selection of diamond sizes and their weights to give a good comparison between size measurements and the true carat weight.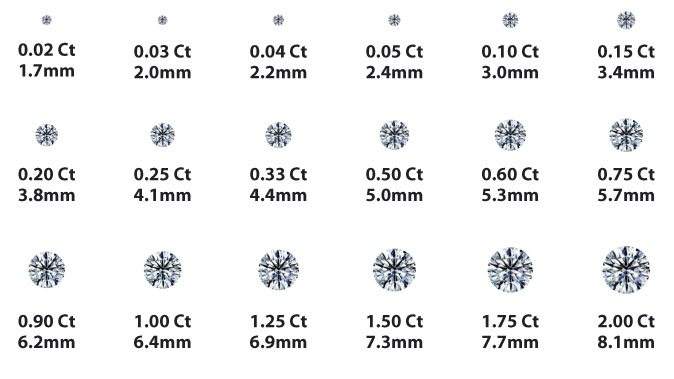 Did you know Whiteflash and James Allen have HD videos of diamonds to help you view and select the perfect diamond? It helps you truly understand the shape, cut, color and clarity of the diamond.
Budget:
While no-one actually ever wants to talk about the budget it is an important aspect of choosing that perfect diamond. As we have previously discussed, the higher the carat of diamond, the more expensive it is going to be. We do have a few pointers that should help with getting the best value for money.
If you have your heart set on a diamond with a carat weight around 1 carat then perhaps think about choosing one which is just below this mark. If you can purchase an 0.8 – 0.89 Carat Diamond this can be around 50% of the cost of a 1 Carat Diamond. This means you can afford to get a better cut which will have more fire and sparkle. The variations in size will barely be noticeable, especially in a round brilliant diamond.
Lowering your clarity and color grade by just even a couple of grades can have a significant impact on the price you will pay for the diamond. By choosing one that has a good cut and an Eye Clean SI1-SI2 clarity, it can massively lower the price that you pay rather than an excellent cut with a VVS2 clarity. Similarly, a I-J graded color will barely be noticeable and again can help with lowering the overall price of the diamond.
Size is not everything. A slim finger can often make a diamond appear larger than it actually is. While we do appreciate that not every lady will have slim fingers, it is something to bear in mind. Equally a larger diamond on a slim hand can look 'too big' if the setting and ring are not thought about carefully.
Lastly, if your budget is small, don't worry about the size of the stone. The carat is just one part of the 4 C's and as we have said previously, is the least important to the quality of the diamond and will have little to no effect to the brilliance or fire that the diamond will emit – the most important of the 4 C's is the Cut. Cut is King!
Going to a diamond company which has an established reputation for high quality diamonds and service is the best way in ensuring that your budget needs, size requirements and cut desires are met perfectly without you feeling pressured into buying something that is not for you. I would recommend contacting Whiteflash as they have the most knowledgeable GIA Accredited staff and largest selection of in house ideal cut diamonds and designer rings. Other companies to look at would be James Allen and Blue Nile.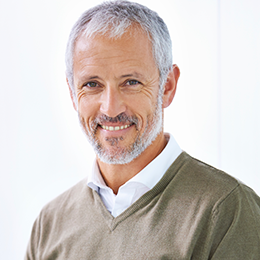 Richard Jenkins, The Diamond Guru
Get free assistance from the Diamond Guru today. You'll be glad you did!
Secure the best quality diamond for your budget.
Don't pay over the odds for your diamond ring.
Have piece of mind that you didn't get ripped off.
Have a Question? Contact us now…