This page contains references to diamonds or engagement rings from different companies. Sometimes I do receive a commission when you click on links and buy the products.
"Is Zales legit?" is a question many ask, given its stature as one of America's longest-standing jewelry retailers. Though a prominent name globally, surprisingly, their e-commerce operations contribute minimally to their annual revenue. After perusing their website, the reasons for this become somewhat clear.
Those who have a tight budget, aren't looking for a top quality diamond and like the convenience of buying from a chain store will probably love Zales. There are several benefits from shopping at Zales, as seen below, but please read the rest of this review before you hand over your cash.
Free Shipping on Orders Over $149
A Brief Look into Zales' History and Its Place in the Signet Umbrella
Zales, a name synonymous with jewelry retail in America, holds a significant position in the lineage of Signet Jewelers Limited. Signet, a force to be reckoned with in the world of jewelry retail, is a publicly-traded entity that operates a vast network of stores across varied market niches and segments.
With approximately 2,800 stores worldwide, Signet boasts a diverse portfolio of brands. Zales is but one of the jewels in Signet's crown. Among their holdings are household names such as Kay Jewelers, Jared, and Banter by Piercing Pagoda. They've also expanded their reach into the digital domain, possessing online-centric brands like JamesAllen.com, Blue Nile, and the subscription-based Rocksbox.
Further solidifying Signet's presence in international markets are names like Peoples Jewellers, a familiar brand in Canada, and the UK-based H. Samuel and Ernest Jones.
Zales, as a part of this expansive conglomerate, benefits from the vast infrastructure, market insights, and shared resources that come with being under the Signet banner. Its enduring history is not just a testament to its individual brand value but also reflects the strategic prowess of Signet in maintaining and nurturing legacy brands alongside newer acquisitions.
Zales Pricing
Zales claim to charge less than their competitors for their diamonds but the quality of these stones has been called into question many times. We decided to put this to the test by comparing a loose diamond for sale on the Zales site with one from another leading retailer.
A search for loose diamonds on the site reaped no results so we took to Google. This took us to a diamond selling for a cool $60,000! Yes there was an image but absolutely no other info regarding the 4 C's which is, quite frankly, ridiculous.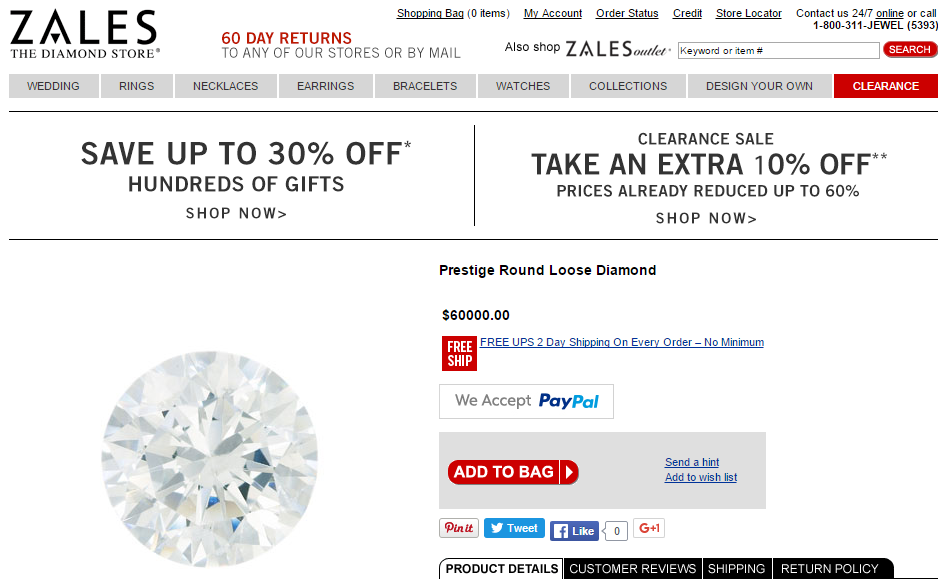 Take yourself to the Whiteflash site and you can get one of their top end 1.348 ct D IF A CUT ABOVE® Hearts and Arrows Diamonds.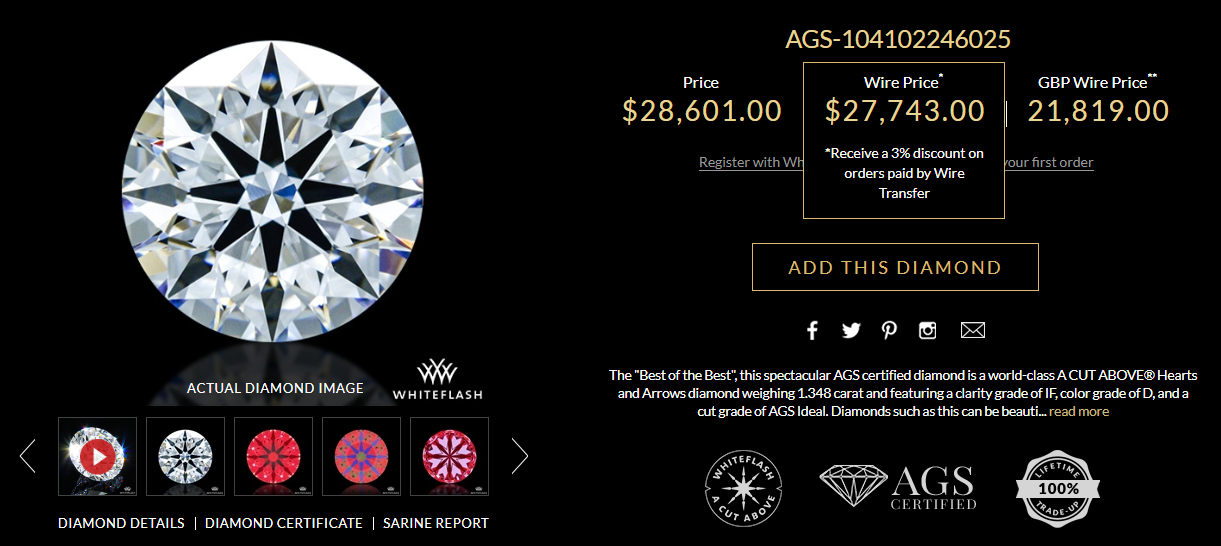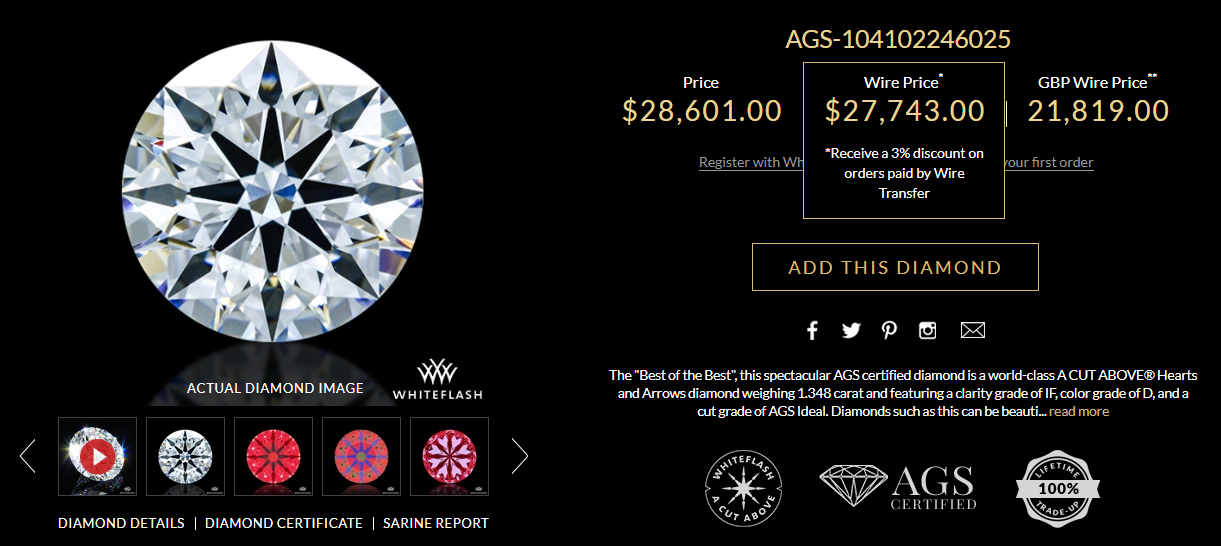 Anyone looking for a top stone to complete that dream engagement ring should not presume due to their marketing ploy that Zales is a cheaper option. We have now proved that Zales sell comparable items at higher prices than the bespoke companies like Whiteflash.
Designer & Custom Items
It's tough to know where to start with this one as Zales several designer and exclusive collections. Vera Wang is obviously the name that leaps out at you here but there are many other big names in there as well.
The Neil Lane Bridal Collection is something pretty special and there are also celebrity collections, although it isn't clear whether they actually designed them or are just endorsing them. Zales also offer an exclusive online collection which consists of a range of rings at heavily discounted prices.
The design your own ring feature on the Zales site is extremely easy to use but while you can choose your setting you are buying your diamond blind, this is similar to Blue Nile. You have to wonder how a company who goes all out to let us know they offer the best value around are offering a setting of comparable quality to Whiteflash for almost $800 more?
Add these to the stones we compared in the pricing section and that dream engagement ring costs over $30,000 less at Whiteflash. This has come as quite a surprise to us as well considering the respective companies reputation cheap and cheerful and top end bespoke.
Once you have chosen your setting and stone an image appears at the end claiming to show you your ring but whether that's the same stone from the initial settings page or is the stone you have actually chosen is anyone's guess. Surely this shouldn't really be classed as design your own when you can't even see the diamond you have selected and thus could be given anything?
Zales Diamond Certification: An Insight into In-House Grading
When it comes to diamond certification, Zales takes a somewhat unconventional route. Unlike many jewelers who opt for internationally recognized gemological labs to grade their diamonds, Zales certifies all their diamonds in-house. This practice raises some eyebrows and warrants closer examination.
The primary concern with in-house certification is the potential for conflicts of interest. Without an independent third party evaluating the diamond's qualities, questions arise about the objectivity and accuracy of the grading. How can consumers be assured that the given grade isn't influenced by internal pressures or biases?
Internationally recognized labs, such as the Gemological Institute of America (GIA) for natural diamonds and the International Gemological Institute (IGI) for lab-created diamonds, have spent years (even decades) establishing their reputation for unbiased, accurate grading. Their certificates are globally respected and provide consumers with peace of mind that the diamond they're purchasing is as described.
The American Gem Society (AGS) is another noteworthy entity in this regard, particularly renowned for its stringent cut grade evaluations for natural diamonds. Relying on such recognized entities ensures that the grading process is consistent and the diamond's attributes, from its carat weight to its clarity, are meticulously evaluated.
For prospective buyers, it's essential to understand the significance of these certifications. They're not just about ensuring you're getting the quality you pay for; they're also about investing in a piece with verified value. While Zales has a long-standing reputation in the jewelry industry, potential buyers should approach with caution when considering diamonds certified in-house. It's always wise to seek out diamonds graded by recognized, independent labs to ensure authenticity and value.
The Website
Proceed with caution when navigating the Zales website. At first glance, the site's design feels less refined compared to other online jewelry platforms. The homepage of Zales.com appears somewhat cluttered, lacking the sleekness and elegance found on other sites.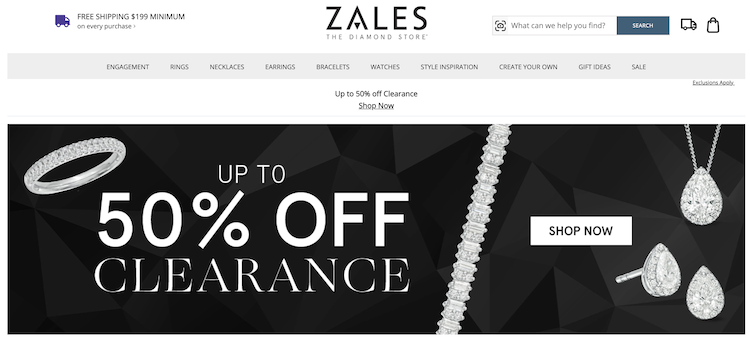 Delving deeper, the site's layout remains a challenge. Essential information is tucked away at the bottom, and while they offer more tabs due to their extensive product range, the overall design could benefit from a more cohesive and aesthetically pleasing approach.
The site does provide images of their collections, but the quality of these visuals is average at best. The search refinement options are commendable, though.
It was a letdown to find that, upon selecting a product, the only available feature was to zoom into the image. Given that there's a 360° view option in the "design your own ring" section, it's puzzling why this isn't a standard feature for all products. The inconsistency suggests that their online presence might be more of an obligation than a genuine effort to enhance the user experience. This could explain why their online sales don't contribute significantly to their overall revenue. To truly compete in the online market, some investment in their digital platform is imperative.
On the upside, the purchasing process is straightforward. Adding a ring to your cart and proceeding to checkout is seamless, with PayPal being a reliable payment method. However, it's only during the final stages of purchase that customers learn about the US-only delivery restriction. This information should be more transparent from the beginning.
The Shopping Experience
Despite the problems with the site, namely navigational and the challenge of finding the items I was looking for, the overall experience wasn't too bad. The lack of overseas shipping wasn't an issue to me personally and the checkout was very quick.
I don't like buying blind when you are spending so much money on something so special. This is always a risk as you only have their word for the quality of the stone you have chosen. If you aren't a big risk taker then you may want to shop elsewhere. I have a feeling the site may be used more for reference purposes rather than actual sales and to appeal to search engines.
The Information on Offer
The website does feature an informative educational section, though it's somewhat hidden amidst numerous other options at the bottom. While it provides general guidance on diamond selection, the section seems overloaded with extraneous information. While my knowledge of diamonds might be more extensive than the average buyer, it's concerning to perceive an implication that the platform may cater to those less informed about diamonds.
The Packaging
The packaging is minimally described, with the only reference being "comes complete with free gift box." Upon conducting an online search to ascertain the box's appearance, it appears rather basic. While the box prominently features the Zales brand, its design aligns with the website's aesthetic, which could be perceived as lacking in premium quality.
The Returns Policy
Zales offers a customer-friendly return and exchange policy, ensuring that buyers are satisfied with their purchases. Key points include:
Return Window: Customers can return jewelry within 30 days from the purchase or shipment date. Watches have the same 30-day return window, but this applies from the shipping date for online orders.
Exchange Window: Exchanges for jewelry are allowed within 60 days of the purchase or shipment date. However, exchanges for online purchases must be done in-store.
Condition for Returns: Jewelry should be in good condition, accompanied by all original certificates and accessories. Watches should be unworn, unaltered, and returned with the original packaging, warranty, and instructions.
Exclusions: Special ordered watches, custom designs, gift cards, and merchandise received via the Jewelry Replacement Plan are not eligible for returns or exchanges.
Refund Process: All refunds are credited back to the original payment method. The processing time is approximately five business days from the date of return. However, the actual reflection of the credit on your card might take 5-7 business days, depending on the financial institution.
Online Order Returns: For online orders, the original payment method will be credited, excluding delivery charges. Zales provides a free pre-printed shipping label for online purchase returns. Alternatively, customers can use the pre-printed return label provided on the packing slip, but they will need to purchase the shipping label from a carrier like UPS, USPS, or Fed Ex.
Inspection: All returned items undergo an inspection by Zales' Quality Assurance team before a refund is issued.
Bottom Line
ales, while a recognized name in the jewelry industry, has room for improvement in certain areas, particularly online. The ambiguity regarding product quality is concerning, especially when customers are making significant purchases. The "design your own ring" feature, for instance, could benefit from more transparency about the stone selection process. The current approach feels more like "choose your setting and hope for the best with the stone." Additionally, while Zales claims to offer competitive prices, our research suggests otherwise.
In today's digital age, a user-friendly and informative website is paramount. Zales' site seems to heavily promote their physical stores, indicating a potential shift in focus. While the site is information-rich, it can be overwhelming for users. The collaboration with Vera Wang and the 60-day refund policy are commendable, earning them some points.
A strong online presence is crucial in today's market. A subpar website can be more detrimental than having none at all. For inspiration, Zales might consider looking at platforms like Whiteflash, Tiffany or James Allen to understand the gold standard of diamond e-commerce sites.
In conclusion, there's potential for Zales to elevate their online platform to be more professional and informative, enhancing the overall customer experience.
Zales
Review:

2

out of 5

★★

by

Richard Jenkins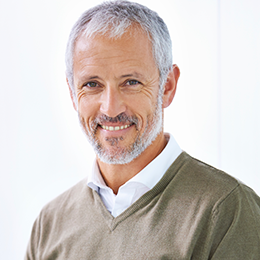 Richard Jenkins, The Diamond Guru
Get free assistance from the Diamond Guru today. You'll be glad you did!
Secure the best quality diamond for your budget.
Don't pay over the odds for your diamond ring.
Have piece of mind that you didn't get ripped off.
Have a Question? Contact us now…