This page contains references to diamonds or engagement rings from different companies. Sometimes I do receive a commission when you click on links and buy the products.
As someone who has delved deep into the world of diamonds and their online marketplaces, I find it imperative to begin with a comprehensive James Allen review. James Allen stands as one of the pioneering forces in the realm of online diamond sales, and their enduring prominence in this increasingly competitive market is a testament to their success. Over the years, they have meticulously cultivated an enviable reputation and fostered a loyal clientele, including numerous returning customers. It's precisely this esteemed status and my personal experiences that compel me to embark on this journey of exploration, offering insights into the world of James Allen rings and jewelry. Join me as we delve into what makes James Allen a significant player in the online diamond industry and uncover the facets that have garnered them such widespread recognition.

This James Allen review covers:
The Company
The business ethos of James Allen is simple; offer their customers the best quality of diamonds at the best possible prices. They operate solely online in order to reduce overheads and pass these savings on to their customers.
Starting from the 15th of November James Allen are offering 50% off engagement ring settings and 30% off fine jewelry, click the banner below.
All the diamonds sold on the company's website are certified by IGI or GIA, the best-respected gem labs in the business. This gives their customers the reassurance that they are buying the quality they expect. James Allen prides itself on ensuring that every piece of jewelry they sell has undergone a stringent quality control process.

The History
The company was founded in 1998 by husband and wife team James Allen and Michele Schultz. They called themselves dirtcheapdiamonds.com and quickly became one of the first truly successful online jewelry retailers. As is the case with several jewelry retailers, Blue Nile being another, JA was formed following its founder becoming increasingly frustrated at the lack of choice when it came to searching for an engagement ring. This became their signature product and one they are still renowned for today.
In 2005 the e-commerce platform R2Net was formed which joined forces with the company. The retail brand name became JamesAllen.com and the company's entire marketing strategy was turned on its head.
The cheap image was replaced by one way more sophisticated and they began to sell diamonds accredited by the leading authorities. While competitors have come and gone JA is still enjoying great success and now, in 2015, is one of the leading names in online jewelry sales.
In August 2017, the renowned online diamond retailer, James Allen, became part of the Signet Jewelers portfolio. This acquisition marked a significant move by Signet, further cementing its presence in the online jewelry market. Signet also own Kay Jewelers, Zales, Jared, Banter by Piercing Pagoda, Diamonds Direct, Blue Nile, Rocksbox, Peoples Jewellers, H.Samuel and Ernest Jones.
Exclusivity
One of the areas James Allen prides themselves on is their selection of fancy color diamonds. Their extensive collection, combined with high-resolution imagery and a user-friendly online platform, offers customers a unique and comprehensive shopping experience. For those seeking the allure and distinction of fancy color diamonds, James Allen provides both quality and variety, making it a top choice for discerning buyers.
Another area is the James Allen True Hearts™ diamonds. James Allen describes its True Hearts™ Hearts and Arrows collection as "the ultimate expression of love". They are described as lasting masterpieces and perfection.
James Allen Pricing
James Allen offers a price-matching program for their diamonds. If you find a diamond that is certified by the GIA and is available for purchase online, James Allen will match the price within $100. To request a price match, you will need to provide the URL of the website where you found the lower price, as well as the carat weight, color, clarity, and cut of the diamond. James Allen will review the request and determine if the diamond is eligible for a price match. If the price match is approved, you will be able to purchase the diamond at the lower price – however many retailers have their diamonds in-house (like Whiteflash which deals in higher quality cut diamonds so this won't be possible). Please note that price matching is not available for loose diamonds, and some exclusions may apply.
While James Allen offers a price-matching program that may seem enticing, it's essential to consider some nuances in their pricing and marketing strategies. This information can help you make an informed decision:
Potentially Inflated Prices: It's worth noting that the price-matching program implies that James Allen may have room to adjust their prices by up to $100. This suggests that their initial prices might not always be the most competitive. It's advisable to compare prices across different retailers and do your due diligence to ensure you're getting the best value for your money.
Frequent Sales: James Allen frequently promotes sales with discounts of up to 25%. While this can be a great way to save on your purchase, it's essential to be aware that these discounts may be a part of their regular marketing tactics. The 'sale' price may actually be closer to their intended retail price.
James Allen Lab Diamonds
Lab-created diamonds are real diamonds that are grown in a laboratory using advanced technology, rather than mined from the earth. They have the same physical, chemical, and optical properties as natural diamonds, and are graded using the same standards as natural diamonds by organizations like the GIA.
One of the main benefits of lab-created diamonds is that they are more affordable than natural diamonds, making them a good option for those who want the look and feel of a diamond engagement ring or other piece of diamond jewelry, but don't want to spend as much money. James Allen offers a wide range of lab-created diamonds in various shapes, sizes, and grades, so you can find a diamond that fits your budget and style.
In addition to offering a variety of lab-created diamonds, James Allen also provides customers with educational resources about lab-created diamonds. This helps customers make informed decisions about their diamond purchases, whether they choose a natural diamond or a lab-created diamond.
Overall, James Allen is a reliable and trustworthy company for purchasing lab-created diamonds. They offer a wide selection of diamonds at competitive prices and provide customers with the tools and resources they need to make informed decisions about their purchases. Other options to consider when purchasing lab-created diamonds are Whiteflash and Brilliant Earth .
Designer & Custom Items
Royal Halo and Mille Couers are two highly respected names who sell their pieces through the James Allen website.  Royal Halo designs jewelry that has the maximum brilliance and impact. Mille Couers specializes in colored gemstones to add an extra dimension to their stunning designs.
Both companies pride themselves on the quality of the jewelry they produce and this is a big thumbs up for James Allen that they have chosen them as retail partners.
The 'Design Your Own Engagement Ring' service is great and the vast majority of the rings are created using this method. Only the Royal Halo and Mille Coeurs collections are sold preset. Yes, this service is offered by most of the top online diamond retailers but we liked the simplicity of this one.
You can start with either the stone or the setting and once you click on your option you are taken to another screen to pull the whole thing together. We chose to kick off with the stone and this offers you a multitude of choices including price, shape and color of stone, cut, clarity, carat, and even the origin of the stone.
Once we had chosen our stone, a radiant cut pink diamond, we moved onto the setting and selected a classic solitaire in 18k white gold. One last click and there was our ring in front of us!
It would have been nice to see the stone actually in the setting rather than in a small image in the top left-hand corner and this is an area where maybe a bit of technological tweaking is called for. When they have gone to such lengths to make this such a fun experience this feels a bit of letdown at the very end.
The Highest Possible Quality?
As you would expect from a top-end retailer much emphasis is placed on the 4 C's when they refer to the quality of the gemstones and jewelry they have on offer.
Every gemstone carries an accreditation from either GIA or IGI. This is your reassurance that the gemstone you are spending all that money on is what it claims to be and is not a cheap stone being passed off as one of a higher quality. If you're looking for Hearts and Arrows Diamonds though I would still head to Whiteflash as they offer a better all-round service and quality.
James Allen and Blue Nile have the largest market share in the online diamond industry. They also operate on a similar business model, sourcing diamonds from a network of vendors and presenting them under their respective brands. While this approach broadens the selection available to customers, it occasionally leads to situations where a chosen diamond has already been sold elsewhere. For James Allen customers, this can be particularly frustrating. While the company makes earnest efforts to offer alternative options, the experience can disrupt the seamless purchasing journey that customers anticipate. Such instances underscore the complexities of the shared inventory model and highlight the importance of real-time inventory updates for online diamond retailers. This is why I recommend purchasing in-stock diamonds.
The Website
When you first visit James Allen's online platform, you might initially find yourself underwhelmed by its minimalist design, which primarily focuses on showcasing dazzling imagery. However, as the saying goes, 'never judge a book by its cover,' and this sentiment couldn't be more apt for this website. Once you dig a bit deeper, you'll discover that James Allen has created a highly efficient and user-friendly e-commerce site that offers a top-notch shopping experience.
Navigation is a breeze, and the website is packed with some remarkable features. One such feature, which we'll delve into shortly, enhances the impression of shopping with a premium company.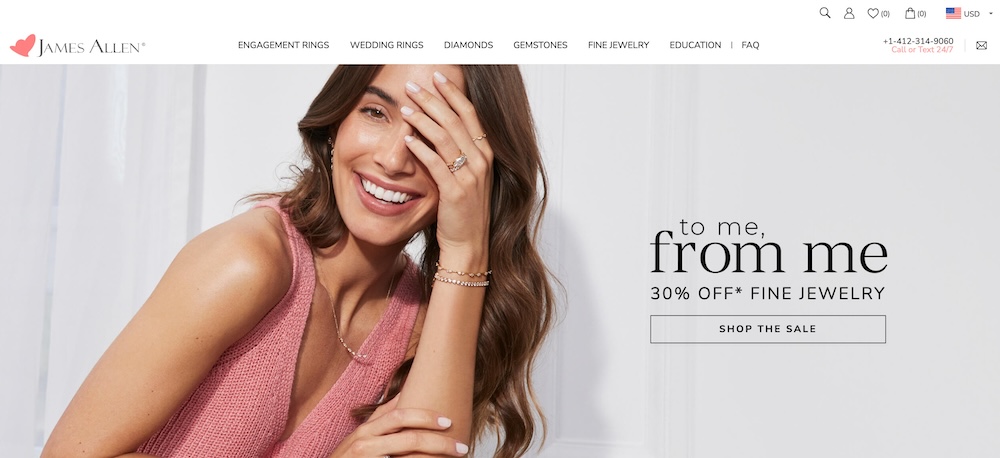 The FAQ section is concise but covers a wide range of topics, and if you crave more information, there are plenty of other resources available. For those who are passionate about understanding the diamonds they're interested in, the real-time consultation feature stands out as particularly impressive.
Simply select your desired stone, provide your name and phone number, and an expert will reach out to guide you through the unique attributes of that gem. Additionally, James Allen offers multiple avenues for customer support, including a readily available phone number and a 24/7 live chat option (though we'll admit, we didn't test it out at 4 a.m.!).
Another noteworthy feature is the ring sizing wizard, which is a great idea in theory. However, it could benefit from a smoother calibration process. We did encounter some hiccups while attempting to calibrate the screen using a credit card or driver's license, but patience may be key here.
It's worth mentioning that there have been independent reviews where customers received rings that were slightly too big on arrival. This understandably made them hesitant to return them, fearing they might end up too small. This is an area where James Allen could consider some improvements.
In conclusion, James Allen's website presents a bright and modern interface with stunning imagery. While it certainly has its strengths, there is room for enhancement, and we believe it has the potential to achieve even greater heights. In our assessment, the website deserves a solid B+, with the comment 'has the potential to do better.' It's important to note that opinions may vary, but based on our experience reviewing similar websites, we believe there are others out there that have set the bar even higher.
The Imagery & Light Performance
This area is, for me anyway, the star of the James Allen website. You peruse the rings, click on the one you like, and by moving the cursor over the image it rotates 360°.
This gives you a chance to see the ring from every possible angle and there are extra images below showing it on hand.
It can be difficult to get the full effect of a setting in an image and this clever tool solves that problem instantly.
For Diamonds, they do not routinely provide advanced diamond performance imagery, such as ASET (Angular Spectrum Evaluation Tool) images or Hearts and Arrows visuals, on their diamonds. These diagnostic tools are essential for discerning buyers as they offer insights into a diamond's light performance, symmetry, and overall optical brilliance. Without these images readily available, customers might find it challenging to assess the true quality and visual appeal of a diamond beyond its basic specifications.
The absence of such images can be a drawback for those who prioritize precision and perfection in their diamond's cut and light performance. ASET images, for instance, provide a color-coded map of how a diamond handles light, while Hearts and Arrows visuals showcase the symmetrical precision of a diamond's facets.
However, it's worth noting that James Allen does recognize the importance of these tools for some buyers. Upon request, they are willing to provide these performance images for a select number of diamonds. While this is a commendable gesture, having such images readily available for all their diamonds would enhance the shopping experience, offering customers a more comprehensive understanding of their potential purchase.
The Information on Offer
James Allen demonstrates a strong commitment to educating its customers about the intricate world of gemstones. They've carved out a dedicated 'Education' tab on their website, showcasing their dedication to helping customers make informed decisions. While the depth of information may not match that of industry leaders like Whiteflash, it undeniably fulfills its purpose, especially for those who are venturing into the realm of gemstones with limited prior knowledge.
Under this 'Education' section, James Allen provides a comprehensive overview of essential topics, such as the Four Cs (Carat weight, Color, Clarity, and Cut), which are the fundamental criteria for evaluating a diamond's quality. They offer clear explanations and examples to demystify these concepts. For instance, they illustrate how a diamond's cut impacts its sparkle and brilliance by comparing a well-cut diamond to a poorly-cut one, making it easy for even novices to grasp the significance.
Moreover, James Allen delves into the different diamond shapes, offering not only textual information but also high-quality images and 360-degree videos. This visual aid allows shoppers to explore the unique characteristics and appearance of various diamond shapes, such as round, princess, cushion, and many more.
One notable feature of their education efforts is their 'Diamond 360°' technology, which enables customers to scrutinize every facet of a diamond through a 360-degree video. This hands-on experience helps buyers gain a profound understanding of the diamond's attributes, including its fire, scintillation, and overall brilliance. By offering this level of detail, James Allen empowers customers to make choices that align with their preferences and priorities.
While James Allen may not offer the most in-depth educational resources in the industry, their commitment to helping customers understand the key aspects of diamonds is commendable. They bridge the knowledge gap for those who may be new to the world of gemstones, ultimately aiding them in selecting the perfect ring that will leave a lasting impression. In summary, James Allen's 'Education' section may not be the most extensive, but it is certainly effective, making it a valuable resource for those seeking to make an informed purchase.
The Packaging
Lacquered red boxes containing white satin are the packaging of choice for James Allen. Very understated and uncluttered, I like these boxes as they hit the right note between heightening anticipation without being ostentatious. They also do larger boxes which have a small drawer feature at the bottom. These can double as a keepsake box which is a nice touch.
James Allen Returns Policy
The company promises that if you aren't totally satisfied with your order you can return it within 30 days for an exchange or a full refund. They pay for the return shipping for US customers and all customers are limited to 3 returns.
There is a charge of $25 for re-polishing if an engraved item is returned. The returns procedure is rather long-winded and can be found in full in their FAQ section. near the bottom.
Bottom Line – Is James Allen Legit?
As a passionate enthusiast of all things diamonds, it's with mixed feelings that I offer a critique of James Allen, a company I genuinely admire for its innovative approach to the diamond industry. James Allen's digital-first business model has undeniably revolutionized the way we shop for diamonds, offering an extensive and diverse range of diamonds that caters to almost every taste and budget. The sheer breadth of their selection is, without a doubt, one of their most significant strengths and sets them apart in the market.
However, it's essential to be transparent about the areas where James Allen could improve. While their website serves as their primary platform for customer interaction, it may leave some room for enhancement. Some of the online features, although well-intentioned, could benefit from more seamless execution to truly elevate the shopping experience.
Furthermore, it's important to note that while James Allen's vast collection spans a wide spectrum of diamond options, they do not focus extensively on the top echelon of diamond cuts. This means that while you're likely to find a diamond that beautifully suits your preferences and budget, if you're in pursuit of the absolute pinnacle in diamond cuts, you may need to explore alternative options.
Nonetheless, James Allen's impressive array of diamonds covers approximately 70% of price points, ensuring that the majority of shoppers will discover a gem that aligns perfectly with their desires and financial considerations. Their dedication to offering accessible and diverse choices remains one of their standout qualities.
4 out of 5 is nothing to be ashamed of, and they are far better than other sites I have reviewed. However, when compared to a website of the caliber of Whiteflash there is no way I could give them a 5.

James Allen has been extremely clever in plugging that gap in the market between the very best companies such as Tiffany's and the cheap and not always cheerful end of the market, a la Zales.  Their business model holds up extremely well in the 21st century and any girl getting an engagement ring from James Allen is a very lucky lady.
James Allen
Review:

4

out of 5

★★★★

by

Richard Jenkins
James Allen Review
Diamond Quality

Customer Service

Price

Selection

Website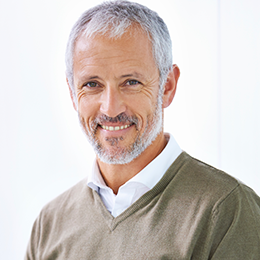 Richard Jenkins, The Diamond Guru
Get free assistance from the Diamond Guru today. You'll be glad you did!
Secure the best quality diamond for your budget.
Don't pay over the odds for your diamond ring.
Have piece of mind that you didn't get ripped off.
Have a Question? Contact us now…