Are you thinking about buying a 1 carat diamond ring online? With more consumers opting to shop online, the internet has become an ideal place to find the perfect diamond engagement or wedding ring. But with so many options and no physical store representative to help guide you through this important purchase decision, it can be difficult to know where to start. Don't worry—our comprehensive guide will walk you through what features you should consider before making your purchase and how to pay for your new diamond in a way that meets all of your needs. Read on and learn everything you need to know about buying one carat diamond rings online!
Summary:
A 1 carat diamond or a full carat. This weight continues to be the most popular choice for brides to be across the globe and it is easy to see why. Romanticised throughout movies and literature, the glory of a one carat diamond is synonymous with beauty and status and we cannot help but be sucked in by the pull of this coveted carat weight.
A size which suits every hand, a 1 carat diamond is an excellent balance between being elegant, eye catching and affordable (if you know what you are looking for).
Buying a 1 carat diamond ring is likely to be an emotional and personal purchase to be remembered and enjoyed for a lifetime. For this reason, it is so important to get it right and avoid getting ripped off.
How Big is a 1 Carat Diamond?
I get this question a lot as there is a popular misconception regarding carat weight and size. Carat expresses the weight of a diamond, with 1 carat weighing approximately 200 milligrams, however the size is expressed in measurements on a GIA or AGS certificate. You cannot give a standard size for a one carat diamond, as different diamond cuts will present different shapes and therefore give a variety of measurements. The image below gives an idea of a 1 carat diamond in comparison with other carat weights, I also have a dedicated page on how big 1 carat diamonds are.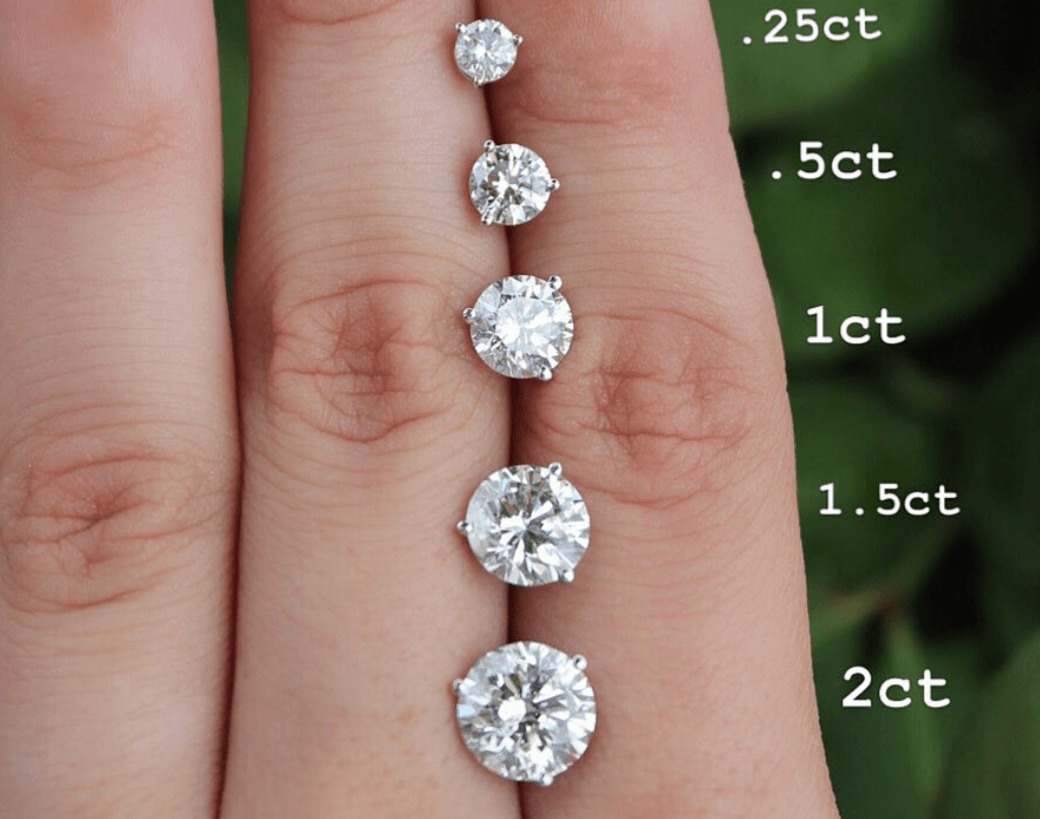 However, as you can see from this table, different cuts can give the impression of being larger even at the same carat weight.
| Diamond Shape | Table Surface Size |
| --- | --- |
| Round Brilliant Cut | 6.5×6.5mm |
| Princess Cut | 5.51×5.51mm |
| Cushion Cut | 5.83×5.83mm |
| Oval Cut | 8.12×5.41mm |
| Asscher Cut | 5.61×5.61mm |
A one carat diamond is a good size for an engagement ring. It is big enough to display all the visual properties we want from a diamond (scintillation, brilliance, fire) but is also a manageable size; let's not forget, you want to wear your diamond ring with comfort and ease, every single day. People who are not used to wearing jewelry often find that while a large diamond (3.00ct and above) looks beautiful, it can get in the way during daily activities and will need to be removed.
If size is important to you, there are a few ways to maximise on carat weight. Consider cuts which give a larger face up appearance (such as marquise or oval shapes). Look at settings which add drama to the ring and create presence (we will look at these later).
The most important way to maximise on carat weight and get the best possible diamond is by understanding for four c's.
Using the Four C's to Buy a 1 Carat Diamond
Price increases exponentially as you go up the grades for cut, color and clarity. A smart diamond buyer may assume that they should go for the absolute highest to ensure the best-looking diamond. The smartest diamond buyer will know how to interpret the four c's so that they get a beautiful diamond within their budget. While the prices increase exponentially, it is virtually impossible to differentiate between the higher grades by eye (e.g. a G color diamond versus a D color).
A 1 carat diamond allows the freedom to play around with color and clarity. Using high-res imaging and 360 video you can get a clear view of the diamond and assess how the diamond performs. If you are able to view the diamond using this technology, it is possible to find a beautiful, eye-clean SI1 or even SI2 diamond that will be considerably cheaper than those diamonds graded VS2 and above. Take a look at Whiteflash and James Allen to see what a huge difference these leaps in imaging and technology have made to diamond buyers. They both provide HD Imaging and Video and Whiteflash provide extensive diamond imaging on all diamonds.
When it comes to color, it is worth thinking about the metal which you intend to set your diamond in. Warm metals, like yellow and rose gold, will cause a diamond to appear whiter. Diamonds graded from K and above are suitable for these warmer settings. If your diamond will be set in a white metal, such as white gold or platinum, look at diamonds graded I and above.
Shopping smart with your color and clarity grades will ensure you don't pay over the odds for minimal changes that cannot be seen by eye. It also means you will have more in your budget to focus on the C which cannot be compromised; the cut.
The cut will dictate how effectively your diamond returns light; a good light return will result in fire, brilliance and scintillation. A good cut will unleash the beauty of a diamond, while a poor cut will leave a diamond look dull.
The GIA and AGS both offer cut grade systems to help you make your choice, however their cut boundaries are fairly lenient and don't always give an accurate view of how the diamond looks.
If you want to truly understand the impact of diamond cut and its intricacies, I recommend taking a look at Whiteflash. Not only do they offer buyers a rigorous diamond education, but their in house A CUT ABOVE® range of super-ideal cut diamonds have set a new bar for light performance. I would also take a look at the Blue Nile Astor Collection as well.
1 Carat Diamond Ring Price
To give you an idea of what a huge impact quality has on diamond price, I have taken two examples from James Allen which represent both ends of the spectrum. 
Diamond one: 1.01ct M-SI2 round brilliant GIA certified with a cut grade of excellent. It is $2,020.
Diamond two: 1.05ct D-IF round brilliant GIA certified with a cut grade Astor by Blue Nile. It is $17,629. 
A huge difference in price = a huge difference in appearance. Diamond one has a large, visible inclusion in the table plus several heavily included areas throughout the diamond. It is an M in color which means a tint or yellow hue would be apparent (I don't recommend going any lower than a K in color). 
Diamond two is the top end of the spectrum. Internally flawless, colorless and sparkling. But do you need to spend $22,000? No, you do not. 
Diamond three is an example of the sweet spot. A 1.018 ct G VS2 A CUT ABOVE® Hearts and Arrows Diamond, it has all the beauty of diamond two, but comes in at just over $8,000.
Purchasing a Lab Grown 1 Carat Diamond Ring?
Purchasing 1 carat lab-grown diamonds is a great way to experience the beauty and brilliance of diamonds while being eco-friendly and cost-effective. When choosing your 1 carat lab grown diamond ring, there are multiple sources where you can shop including Whiteflash, Brilliant Earth and James Allen. All three offer an impressive selection of 1 carat lab grown diamonds accompanied with GIA or IGI certifications. Furthermore, they provide helpful customer service to ensure that you purchase the best 1 carat ring for your needs and budget. If you're considering 1 carat lab grown diamond rings, these three companies make it easy to find the perfect one!
Here is a stunning example of a lab grown diamond from Whiteflash's Precision Cut Lab Grown Diamonds:
Choosing a Setting
If you are looking to maximise on carat weight and add drama and sparkle, you may choose an ornate halo setting like this 14k White Gold Ritani French-Set Halo Diamond Engagement Ring. 
If you want to let your diamond do the talking, a simple solitaire like this 14K White Six Prong Solitaire Engagement Ring from James Allen it will give an elegant and timeless appearance.  
If you have compromised on diamond color, warmer settings such as yellow and rose gold will help the diamond appear whiter in relation to its setting. Perhaps consider this classic three stone Engagement Ring from Blue Nile.

Where Can I Buy a 1 Carat Diamond Ring?
You will always get more for your money shopping online. Smaller profit margins and large inventories mean you can take time to select the perfect diamond within your budget. Look for companies with the best diamond imaging and additional diamond reports – these can actually be more effective than looking through a jewelers loupe which can take some practice and is difficult for a diamond novice. 
Furthermore, the majority of bricks and mortar stores will hold pre-set rings. If you want a particular diamond in an alternative setting this will need to be ordered in making the whole process longer and more complicated.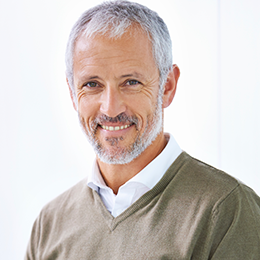 Richard Jenkins, The Diamond Guru
Get free assistance from the Diamond Guru today. You'll be glad you did!
Secure the best quality diamond for your budget.
Don't pay over the odds for your diamond ring.
Have piece of mind that you didn't get ripped off.
Have a Question? Contact us now…