This page contains references to diamonds or engagement rings from different companies. Sometimes I do receive a commission when you click on links and buy the products.
Previously working as a diamond and gemstone distributor for other brands, in 2005 Angara stepped into limelight selling gemstone and diamond jewelry of their own. Since then, they have maintained a successful e-commerce business model with their head offices located in Los Angeles. Their jewelry is made in LA, India and Thailand.
At a time when the world of e-commerce jewelry is more competitive than ever, all companies, including those which began as small family businesses, must be held to the same standards in matters of price, quality and policy. I have reviewed Angara diamonds to see if their offerings can keep up with the industry leaders, and whether they are a wise choice for your engagement rings and diamond jewelry.
The Quality
It's always good to start with the positives, and for Angara that means taking a look at their gemstones and semi-precious stones. They have a large collection of colored gemstones to choose from. They offer four quality options for their stones which are: Good (A), Better (AA), Best (AAA) and Heirloom (AAAA). Although this might seem off-putting (given those options, who would choose 'Good'?) – it is refreshing to see a vendor offering any quality choices at all when it comes to gemstones. I would suggest that Leibish gemstones are generally of a higher quality and that Green Lake would be better at sourcing a particular hue/intensity colored gemstone – nevertheless, there are some good quality tanzanite and sapphire gemstones to be found at Angara.
Their settings are fairly good quality, although the selection is limited and there is nothing particularly unique about their engagement ring styles. They do have some nice cocktail and dress rings so it is a shame the same imagination hasn't been used for their engagement offerings.
In all there is nothing striking about the quality in Angara. It's all fairly good. Sadly, the same cannot be said for the Angara approach to diamonds.
The Diamonds
Angara Diamond Engagement Ring Example
You will struggle to find any information about your chosen diamond anywhere on the Angara website. For me, if a diamond is high quality, the company will want to scream it from the rooftops and provide you with every measurement, every proportion and every performance report possible (Whiteflash are a great example of this with diamond imaging and HD Video, learn more about that here). Angara do the complete opposite, which immediately sets alarm bells ringing. I chose a simple six-prong solitaire to begin my search: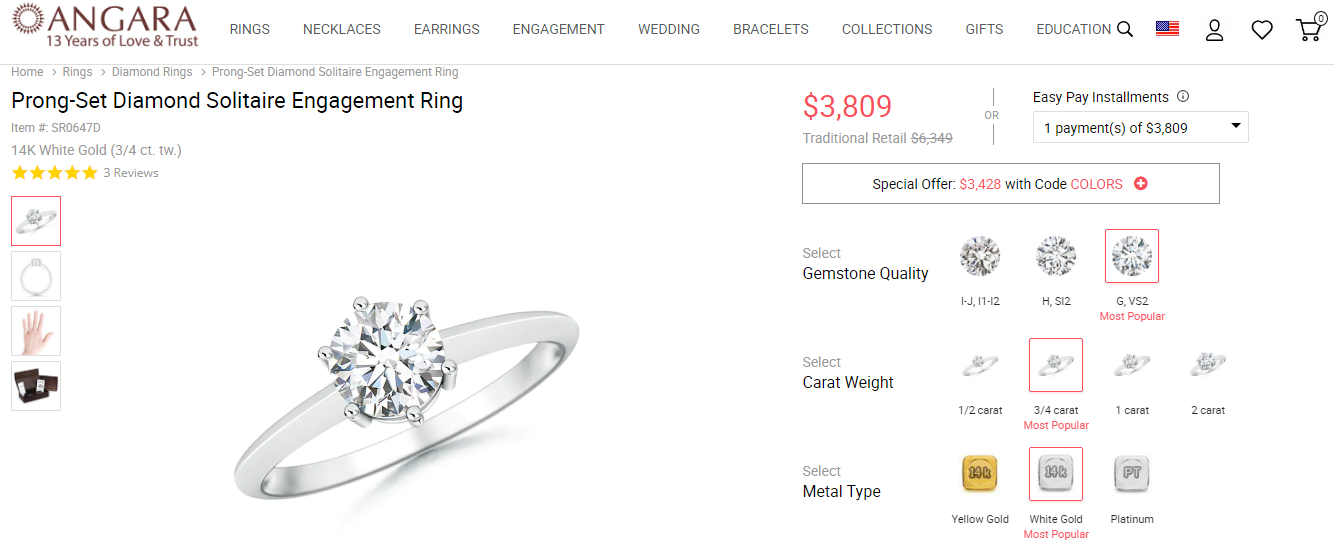 First you will see very vague quality and carat weight brackets for your diamond. Scrolling down past several adverts for add-on pieces such as wedding bands and earrings, you then find the product details.

Unfortunately, it is not very detailed at all.  There is absolutely no mention of who has certified the diamond, or if it is even certified at all.
You can add the ring to your basket and complete the full purchasing process without once knowing anything about the diamond. There is no high-res imaging, no certificate, no performance reports…you would be buying this diamond totally blind. The certificate of authenticity carries no weight at all – it does not detail any of the diamond specs or give an outlined value meaning it couldn't even be used for insurance purposes.
In the top right-hand corner, you will see the words 'traditional retail value' listed as $6,349. I have no idea how or why Angara have offered such a huge price slash off of this (except as a marketing ploy) – but for my comparison I have given them the benefit of the doubt and taken their amended price of $3,809.
I found this 0.75ct G-VS2 round brilliant diamond on Whiteflash. Not only is it AGS certified, it is also a super-ideal cut and a part of their esteemed, in-house A CUT ABOVE® brand. You can view a high-res image of the diamond, a 360 video, an ASET image, hearts and arrows image AND a Sarine report. It is stunning. At $3,595 it can be paired with a 14k white gold designer setting like this Ritani solitaire and you have a beautiful ring with an exceptional diamond for $3,840.   This comparison puts into perspective how little you really know about the diamond you are buying from Angara and where that money is going, and that is before we even consider that the 'original retail' price of this ring was over $6,000.
Angara Jewelry
Angara does a better job with its jewelry pieces, especially at affordable prices. They offer a wide selection of handcrafted fine jewelry that you can flaunt every day. From exquisite rings and earrings to pendants and more, their unique collection of gemstone jewelry is sure to take your breath away. With customizable options, you can find the perfect piece to suit your style and budget. Their collections include huge selections of necklaces, earrings, and bracelets.

They make it easy to filter by GIA certified gemstones, ensuring that you can easily find high-quality and trusted jewelry. With their vast selection of gemstones, including emeralds, sapphires, and rubies, you can pick the stone that speaks to you and be confident in the quality of your purchase.
Their website is user-friendly, with a helpful filtering system in place that allows you to sort by metal type, price range, gemstone type, and even style. With the confidence of GIA certification, you can be sure that the jewelry you purchase from Angara is stunning and of the highest quality.
Overall, Angara Jewelry's commitment to providing a wide selection of gemstone jewelry, as well as their dedication to quality and customer service, make them a top choice for anyone looking to add a touch of luxury to their jewelry collection.
The Price
That comparison brings us onto the second issue. Angara are charging big money for a lot of uncertainty. They fail to provide the most basic information when it comes to diamond quality and no one should feel comfortable buying an engagement ring in this manner. With so little information about the diamonds on the website, it will be difficult for you to make accurate comparisons and that in itself is a red flag. The Angara diamonds I've seen have ranged from average to poor.
When it comes to the settings, I still feel Angara are pricing themselves out of the competition. These are not designer settings nor are they bespoke so essentially you are paying for your run of the mill, generic engagement ring settings. If you fall in love with an Angara design, it is likely you will find the same or something very similar elsewhere.
However, as I mentioned before their cocktail rings are much more impressive. They have some beautiful and unusual designs and masterfully use their collections of gemstones to bring them to life. They also have some nice pieces for $200 and under using semi-precious stones, though I would consider these pieces to be costume jewelry rather than fine jewelry.
The Services
Angara are known for their generous returns policy and do go above and beyond for customers if there is an issue. A quick google search of Angara brings up a few complaints about jewelry becoming damaged or the wrong items being sent. I would advise you take these with a pinch of salt – every single retailer will receive many complaints like this – jewelry is an emotionally driven purchase so when something goes wrong, tempers do flair.
As well as a basic warranty, you can also opt into Angara's enhanced warranty plan which covers:
Repairing bent or broken prongs
Repairing any accidental scratches to mounting
Replacing or re-polishing scratches to any gemstone or diamond
Replacing or repairing spring rings on chains
Replacing or repairing earring backings
Gemstone and/or diamond tightening (also covered under free lifetime warranty services).
Re-Rhodium Plating Services (also covered under free Lifetime warranty services)
Re-polishing and cleaning of jewelry (recommended once every year; also covered under free lifetime warranty services).
You will pay a percentage of the cost of the jewelry for this service. Angara honour their returns and warranty policy and will work with customers to help everything go smoothly. Make sure you read all the small print of any warranties or returns policies before purchasing. Many of the complaints I come across (for lots of different companies) come down to the fine print on 'lifetime' warranties.
The Final Word
If you are in the market for a striking gemstone cocktail ring, Angara might just be the company for you. If you are looking for a beautiful diamond or a classic engagement ring, your money is better spent elsewhere. You may be tempted by Angara's endless price slashing and free gifts but tread cautiously. This company does not put diamond quality at the forefront of their business, and this results in overspending for subpar diamonds.
Until Angara can keep up with the ever-evolving technology of the diamond world, their customers are buying blind and even a generous returns policy cannot make up for the lack of focus on diamond quality and lack of education for the consumer.
Take the time to carry out research, talk to specialist jewelers who are happy to pro-actively provide comprehensive image reports and videos like Whiteflash or James Allen and you'll know that when you buy a diamond you own a piece which looks beautiful in any surroundings. If you're set on fancy colors Lebish and Co are another good option to consider.
Angara Diamonds Review
Product Name: Angara Diamonds
Diamond Quality

Customer Service

Price

Selection

Website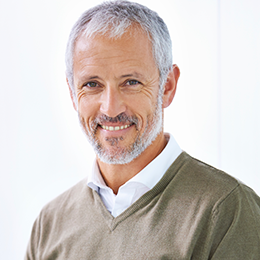 Richard Jenkins, The Diamond Guru
Get free assistance from the Diamond Guru today. You'll be glad you did!
Secure the best quality diamond for your budget.
Don't pay over the odds for your diamond ring.
Have piece of mind that you didn't get ripped off.
Have a Question? Contact us now…