This page contains references to diamonds or engagement rings from different companies. Sometimes I do receive a commission when you click on links and buy the products.
Brilliant Earth claims to have a commitment to ethical and eco-friendly jewelry, but is their marketing spin real or is it a lot of hot air? I find out in my review of Brilliant Earth.
Ethical and eco-friendly diamonds
Commitment to giving back to communities affected by unethical diamond practices
Free shipping to the US, Canada, & Australia
Free 30 days returns and re-sizing
Great reviews on places like Yelp and Google Places
Options for custom design of rings with multiple options
The Company
We can't fault Brilliant Earth's marketing claims to the diamond industry. As laid out in their "Our Mission" page, not only do they claim to make their jewelry as beautiful as others on the market, but they also claim to do so in an ethical, eco-friendly, and sustainable way. They even have diamonds trademarked as Beyond Conflict FreeTM – these diamonds aim to cultivate 'a more ethical, transparent, and sustainable jewelry industry'.
They claim to use socially responsible practices, provide education on environmental issues, and promote growth the Brilliant Earth foundation which promotes growth and supports organizations around the world. Their contributions have doubled since 2020.
Their commitment to ethical jewelry is moving, however reputable jewelers buy diamonds from companies that adhere to the Kimberly Process, in fact Whiteflash run several social responsibility programs  and Blue Nile also promote Ethical Diamond Sourcing and Responsible Mining. That said, they go beyond this with lab created and recycled diamonds as well. Both of which require no new mining. You can read more about my thoughts on lab diamonds and learn more about Brilliant Earth's commitment to traceable diamond origins here.
History
Brilliant Earth was founded in 2005 by Beth Gerstein and Eric Grossberg as they couldn't find their own ethically-sourced diamond engagement ring in 2003. After doing some research, they found that there was a gap in the market for products like this.
Exclusivity
Brilliant Earth does boast some levels of exclusivity. They source their diamonds from a number of mines around the world, with two of these being exclusively from the Diavik and Ekati mines in Canada. However,  some of their diamonds can be found on other retailer's websites much like Blue Nile – this is common however.
Designer & Custom Items
Brilliant Earth does offer a custom design option, it is a slick and smooth offering which is easy for any user to follow. It easily allows you to choose the setting and diamond of your ring, with multiple options for setting & design style, cut, precious metal, carat, shape, and price limit.
The high level of options available makes this a useful service for anyone looking to custom build their own perfect diamond ring.
The Website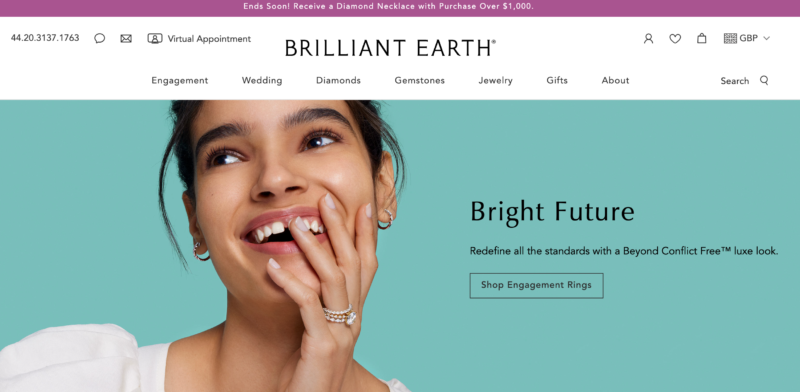 Everything is clearly laid out, and it is more than easy to navigate.
They have a brilliant "education" section, which gives information on everything from who they are, to their mission, to conflicts over the world, and a handy diamond choosing guide, as well as other guides.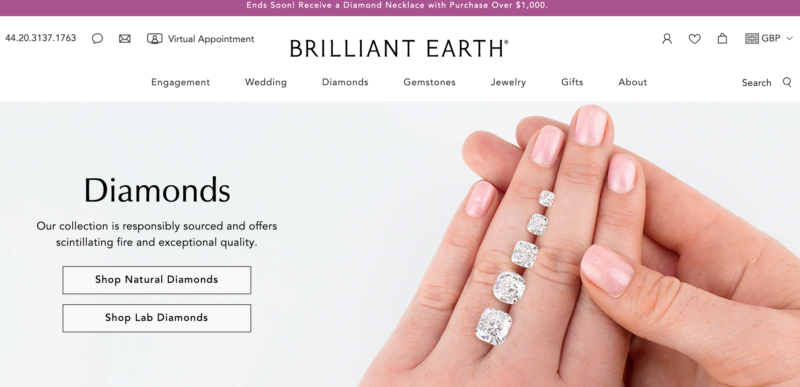 All-in-all, Brilliant Earth offer a good process and user journey when using the website.
Pricing
Not all of Brilliant Earth's diamonds have light performance and diagnostic images – ASET maps, ideal scopes, HD Vidoes and hearts images, however they will provide ASET Maps and Ideal Scopes upon request for every diamond. This is more than you'll get from Blue Nile and James Allen, but Whiteflash has the largest range of light performance images as things stand.
They have also started providing some HD videos of the diamonds in order to get a better view, they also back this up with free 30 day returns and 60 day resizes which is refreshing despite it not being a unique proposition.
The Imagery
The imagery throughout the website is nice, clean, and slick. It adds to a smooth and streamlined approach that Brilliant Earth offer.
They have also started to roll out videos for many of their diamonds. Please see this 2.25 Carat Round Lab Created Diamond:
Diamond imaging is extremely important, and while each and every diamond is unique, they aren't all equal. This is why it's crucial to be able to view light performance and diagnostic images of the diamonds that you are about to purchase. The importance of testing the light performance of your diamond is something that we have previously covered however this is a great step in the right direction.
If you're looking to purchase a lab diamond from Brilliant Earth, please do get in touch directly so I can help advise you on your purchase.
The Shopping Experience
Overall, the shopping experience with Brilliant Earth is a good and smooth one with secure payments. With multiple options, it is easy to quickly whittle down the diamonds on offer to find the one that perfectly matches your requirements. You can add the diamond of your choice to either your shopping bag or to a ring of your choice, or even save to a wish list for later.
You don't need an account to purchase the diamonds, which other sites force you to do, making it quick and easy to purchase your desired product. Finally, you can have the item shipped to your address, free if you are in the US, Canada, or Australia, or you can pick it up at a nearby showroom.
Brilliant Earth Lab Created Diamonds
Lab-created diamonds are chemically identical to natural diamonds and can be a more affordable and responsible option, as they are grown in a laboratory using advanced technology and do not require mining. They have the same physical, chemical, and optical properties as natural diamonds and are available in a variety of colors, including rare fancy colors. Lab-created diamonds are created using tiny carbon seeds of pre-existing diamonds and advanced technology that mimics the process of natural diamond formation. They can be distinguished from natural diamonds using specialized equipment, but not with the naked eye. Lab-created diamonds should not be confused with diamond simulants, such as cubic zirconia and moissanite, which are not true carbon crystals and do not have the same properties as diamonds.
Brilliant Earth lab created diamonds are produced using advanced technology that replicates the conditions under which diamonds naturally form. This includes either applying extreme pressure and heat or using a special deposition process called CVD. In some cases, diamonds created through deposition may also be treated with pressure and heat after they have been grown. Lab-grown fancy colored diamonds are made by adding small amounts of specific trace elements during the growth process, just like in nature. However, the exact composition of trace elements in lab-grown diamonds may be different from those in natural diamonds. These diamonds can only be distinguished from natural diamonds using specialized equipment that can detect the minor differences in trace elements and crystal growth.
Brilliant Earth have a fantastic selection of lab created diamonds and fancy colored diamonds. If you're looking for the best of the best lab created round and oval cut diamonds I would also consider Whiteflash – their diamonds are cut to produce optimal light performance. Another option would be James Allen.
There are many benefits to lab diamonds including:
Lab-grown diamonds are often of higher quality and purity, resulting in more stunning pieces
They tend to have fewer flaws compared to natural diamonds
Choosing lab-grown diamonds can be a more environmentally conscious option
They can be more affordable than natural diamonds
It is possible to create lab-grown diamonds in rare fancy colors, making unique pieces more accessible
You can easily track the origin of lab-grown diamonds and ensure they come from responsible sources that do not support poor treatment of workers or communities.
The Choice
Brilliant Earth has a wide range of diamonds on offer, with ten different styles, multiple carats, cuts, and colors. Their diamonds come from multiple sources, including Canada and Botswana among others. Overall, this leads to a good choice of ethically sourced diamonds. Their selection of Lab Diamonds is unmatched and if affordability is top of your list then these diamonds should be considered, along with their Lab Created Colored Diamonds as well.

If you're looking for a larger selection of generic diamonds I would also consider Blue Nile. However if you're looking for precision cut Hearts and Arrows Diamonds then try Whiteflash and their A CUT ABOVE® diamonds (which I've reviewed in more detail here.
The Returns Policy
Brilliant Earth has a comprehensive returns policy, with free 30 day returns and 60 day resizes. This goes some way in helping to make up for their lack of diamond images. They do, however, cover both ways of packaging and posting costs in the US, Canada, and Australia.
They also offer two types of lifetime guarantees, with one allowing for a diamond upgrade and the other covering any manufacturing defects.
The Bottom Line
Brilliant Earth's lab created diamonds and lab created colored diamonds have really impressed me, and alongside James Allen should be the first point of call for a lab diamond.
If you're looking for super ideal cut VVS  round or princess diamonds then Whiteflash have the slight edge A CUT ABOVE® diamonds (which I've reviewed in more detail here) however Brilliant Earth have excellent options in other cuts/shapes.
Their offering and commitment to conflict free diamonds should also be commended, whether or not this is unique, and they make a huge effort to positively impact the diamond industry and communities as well.
Brilliant Earth
Review:

4

out of 5

★★★★

by

Richard Jenkins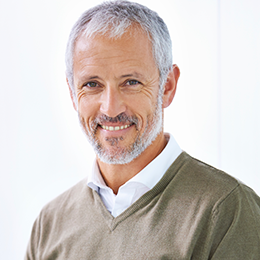 Richard Jenkins, The Diamond Guru
Get free assistance from the Diamond Guru today. You'll be glad you did!
Secure the best quality diamond for your budget.
Don't pay over the odds for your diamond ring.
Have piece of mind that you didn't get ripped off.
Have a Question? Contact us now…