This page contains references to diamonds or engagement rings from different companies. Sometimes I do receive a commission when you click on links and buy the products.
Macy's is the one stop department store that is famed across the United States. Their flagship store in New York has become a 'must-see' for tourists visiting the city and the 'go to' shopping spot for locals. With over 552 stores across the U.S, Macy's dominate the retail industry. The annual Macy's Thanksgiving Day parade has become a key spectacle in the celebrations and Macy's is firmly cemented in the American culture.
Perhaps you've found yourself some wonderful bargains in Macy's. There is no denying the appeal of their discounted clothes and shoes, nor the allure of their huge stores. But are they a good choice for engagement rings?

Macy's Engagement Rings
Let's start with my favorite red flag of any chain jewelers – the one simple thing I look for that tells me something is up. Illusion settings.
Illusion settings can take a few different forms; Macy's uses all of them. Diamonds set close together to create the illusion of one single stone, textured metal in place of fine Pave diamonds…yes, the illusion setting is a way to keep the costs down whilst still making a big profit. This setting does not command the same attention to detail that other settings do. This illusion set bridal stack may seem like a big bargain to a first time buyer – but be warned, this is an extremely low quality ring using shortcuts to give the impression of 'bang for buck'.
Aside from the setting technique, let's look a little closer at the specs.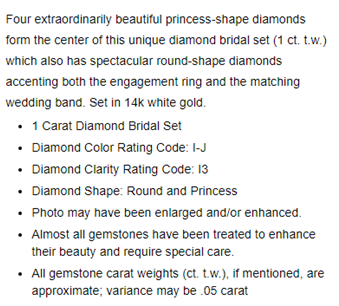 From bad to worse. Color grades of I-J, clarity grade I3 and treated diamonds. You'd be better off buying a cubic zirconia for $30. It would look a great deal better than this engagement ring which was originally priced at $2,399!
Sadly, this is not an isolated case. Let's take a look at this halo engagement ring – the specs are poor. An I1 clarity (never an acceptable grade for an engagement ring), a ¾ carat (I would like a specific carat weight, not an estimation) and zero mention of who has certified the diamond…or if it's certified at all.  The 'original' price is listed as $5,585.
In a nutshell, Macy's engagement rings are poor quality, generic and seriously overpriced. If you want the best selection of designer engagement rings then Whiteflash is the best option, they are also the exclusive stockist of A CUT ABOVE diamonds. James Allen is another option to consider.
Are Macy's diamonds real?
While Macy's offers a range of "costume" jewelry pieces, they also feature a section dedicated to certified diamonds, which are indeed real. However, a pertinent question arises: Who provides the certification for these diamonds? It's essential for potential buyers to ascertain the source of certification to ensure the authenticity and quality of their purchase.

Several concerns arise for potential buyers. Foremost, there's no clear mention of where the diamonds are certified. Independent certification is a crucial aspect of diamond purchasing, as it assures the buyer of the diamond's quality, authenticity, and value. The absence of this information raises questions about the diamonds' provenance and quality.
Additionally, for a high-ticket item such as this, the lack of HD videos, detailed images, and light performance metrics is quite surprising. These tools are essential for customers to truly understand the brilliance, fire, and scintillation of a diamond, especially when making a significant investment online.
Given these oversights, potential buyers are encouraged to exercise caution. It might be worthwhile to explore other retailers that offer comprehensive information, imagery, and certifications for their diamonds, ensuring a more informed and confident purchase.
Macy's Experience
There is little to redeem Macy's jewelry in terms of the experience. While the staff are pleasant, there is little to no focus on the jewelry sections of the huge stores. If you can find someone working the jewelry counter, they are not trained to give you a full diamond education…or even a slight one! In most cases, they will be unable to tell you the diamond's cut, color or clarity grades or whether the diamonds are certified.
An in-store shopping experience (vs. an online one) generally appeals to buyers who want to see the jewelry and have a special moment to make the buying experience memorable. For this, you need to go to the top end brands – Harry Winston, Tiffany & Co etc. Macy's hold very limited stock so there isn't much to see, and lack the luxury aspect that buyers are looking for. It's a department store after all and buying a diamond from here will have all the excitement of nipping in to buy a pair of socks.
Macy's Diamond Prices
The main appeal for shopping at Macy's is bargains. Unfortunately, this is a huge misconception and something Macy's have been called out on time and time again. I have lost count of how many times I've been asked, why are Macy's diamonds so cheap? Let's break it down.
Macy's diamonds are for the most part uncertified or carrying a low-tier certificate. This means that the stated grades could be inflated. You might consider $2,000 a bargain for a 0.75ct H-VS2 diamond (for example) but if that diamond is really a K-I2, suddenly that's not a good deal at all.
Their diamonds are low quality and they sell grades that most vendors wouldn't stock (such as I3 clarity). Sadly, there is a general focus on carat weight by unsuspecting buyers and these important details can be overlooked in favor of size.
Macy's cut corners in the form of illusion settings and spaced channel settings. Illusion settings use low quality diamonds and spaced settings reduce the number of diamonds needed.
SALE! We all love to see that word, but there is no such thing as a cheap diamond. The 'original' prices listed by Macy's are absolute nonsense and even the sale prices are far too high. It is a marketing ploy. Don't fall for it!
The Bottom Line
There is no saving grace for Macy's. These diamonds are so below the standard for engagement rings but still carry considerable price tags.

If you're looking for the highest quality diamonds with HD Videos and Light Performance Imaging, then take a look at Whiteflash and their A CUT ABOVE® diamonds. I would also recommend looking at Blue Nile if you have a smaller budget and need a lower quality cut, James Allen is also worth considering.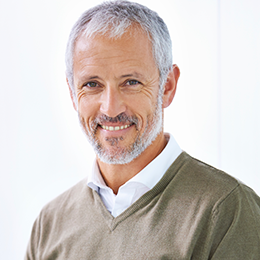 Richard Jenkins, The Diamond Guru
Get free assistance from the Diamond Guru today. You'll be glad you did!
Secure the best quality diamond for your budget.
Don't pay over the odds for your diamond ring.
Have piece of mind that you didn't get ripped off.
Have a Question? Contact us now…
Macy's
Review:

2

out of 5

★★

by

Richard Jenkins