The rise of rose gold has been impossible to ignore, and this year it shows no sign of slowing down. I am sometimes asked questions like 'is rose gold real?' It is a fair question. The stunning hue of rose gold is a thing of beauty, and many people express concerns that the color is 'painted on' and will tarnish over time.
So, before we look at some of the most beautiful rings, let's first look at some rose gold facts!
Facts About Rose Gold
The finesse or purity of gold is expressed in Karats (g., 18k gold). The highest purity of gold is 24k, but this is too soft to be used in gemstone jewelry. For this reason, we mix it with other metals, known as alloys, to strengthen it.
Gold is naturally yellow in color, but when it is mixed with other alloys, it can change the color of the metal. It is the presence of copper that gives rose gold its unique pink hue. If there is a higher purity of gold, the pink color will be subtler.
For example, a 14k gold ring will have more of a reddish rose color, and a slightly duller finish as there is less pure gold present. An 18k gold ring will have a blush/champagne color and have a brighter finish.
Rose gold does not tarnish. While white gold will turn yellow and need rhodium plating over time, rose gold will keep its natural color Over the years it may develop a unique patina from being worn, but the color will not change.
There is no such thing as 'pure rose gold'. If you see something marked as pure rose gold or 24k rose gold, it is fake or at least be dubious of the knowledge of the jeweler.
The presence of the alloy and the flattering color makes 14k and 18k rose gold an excellent choice for diamond jewelry.
The Top Ten
Most retailers now offer rose gold as an option for most of their engagement rings. This is great news for lovers of this romantic metal, as there are most styles and designs than ever. Here are a few of my favorites for 2018.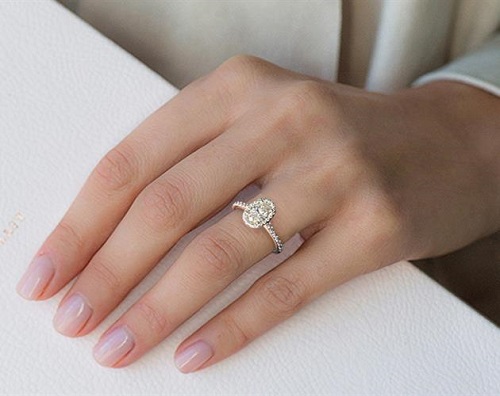 This ring combines two of the most on-trend engagement ring styles for 2018; a rose gold setting and an oval diamond. The popularity of this style rests within its extremely flattering color and proportions. James Allen finishes the ring with a pavé halo and a dainty diamond band. This ring will elongate the finger for an elegant finish.
For those who are looking for something a little different, Leibish has the answer. The company is the masters of fancy colored diamonds and gemstones and it understands how to pair these with the most complimentary settings. This stunning deep brown fancy diamond is radiant cut to allow the light to capture the hints of orange within the stone. It is finished on an 18k rose gold band, with intricate filigree scrolls clutching the unique diamond. The warm tones work together perfectly and create an unusual ring that stands out from the crowd.
This Ritani three-stone design is all about making an impact. The ring is beautifully structured and the three diamonds stand proud from the band, while still being practical and wearable. It is a modern imagining of the classic three-stone engagement ring.
Rose gold has typically lent itself to vintage and romantic designs in the past, however this James Allen tension set ring proves that this blushing metal can also bring new life to sharp-edged, modern styles. The tension setting grips the diamond, giving the impression of daring suspension in a fluid twist style. This setting demands a high-quality diamond that looks good from every angle.
This ring is all about the simple romance that a rose gold setting enhances so well. The double twist band conjures images of sweeping vines, finished with round brilliant diamonds. The side profile shows them weaving to a pronged setting, holding the center stone in place. Wistful and feminine.
This Vatche ring emphasizes the elegant simplicity of a princess cut diamond. The prong setting allows maximum light to the stone, which twinkles in the warmth of the rose gold setting.
Another striking selection from Leibish, but this time a delicate pink/orange fancy diamond that is swept up in a pave crossover setting. There is a real sense of movement in this warm, rose gold setting and only something so striking would be appropriate to hold such a unique diamond.
If you are looking for a rose gold ring that sings with classic style, then there is nothing more classic than The Tiffany Setting. We know that there is a (large) price to be paid for owning the elegance of Tiffany, but in a countdown of the best it is impossible not to include this rose gold, six claw solitaire in our selection.
A bezel setting is a simple, clean, and secure setting for your diamond, however the addition of rose gold elevates it into the new heights of a modern classic. The smooth finish of the design creates a ring that is tactile and striking in its simplicity.
Blue Nile Monique Lhuillier Floral Halo Diamond Engagement Ring
And finally, this stunning creation from Blue Nile. This Monique Lhuillier ring is all about floral beauty; the marquis cut diamonds are a welcome addition, adding dimension and a petal effect around the round brilliant center stone. Enveloped like a budding flower, the central stone is also completed with a diamond halo and finished on an intricate diamond band. The side profile shows even more round brilliant diamonds nestled beneath the setting. Dazzling and detailed and even more of a statement when set in rose gold.
With so many retailers understanding the power of rose gold, the options continue to bloom. Whether you are looking to compliment a unique colored stone or simply admire the rosy blush that rose gold brings to an engagement ring, pair your rose setting with a high-quality diamond for a truly stunning style.