Are you looking for alternative vendors to Blue Nile that provide beautiful high quality diamonds, engagement rings and jewelry? While Blue Nile is the largest online diamond and fine jewelry retailer in the world, there are five excellent alternatives with distinct benefits. In this blog post, we will explore these options to help you choose which one best suits your needs and budget. Whether it's their selection of conflict-free diamonds, customization options or competitive prices – each vendor offers something different that can give you access to a high quality purchasing experience without a hefty price tag. Let's dive into our list of the top 5 retail competitors worth checking out!
1. Whiteflash
Whether you're looking for the highest quality natural diamonds, designer engagement rings or lab-grown diamonds and jewelry Whiteflash should be high on your list.
Whiteflash specialize in the very highest-quality cut diamonds and is the exclusive provider of  A CUT ABOVE® diamonds (which I've reviewed in more detail here.) These truly are the best of the best when it comes to cut quality, they also provide a plethora of light-performance images and HD video. In addition to that they have the largest selection of designer engagement rings, from Verragio, Tacori, Ritani, Simon G, Danhov, Vatche, A Jaffe and Benchmark.
Lastly, their customer service is unparalleled. All of their staff have been GIA trained so they can provide you with a stress-free and professional experience without any pushy salespeople. Don't just rely on what I have to say, for independent Whiteflash reviews you can visit third-party review sites such as Google and Yelp where they truly excel.
2. James Allen
In 1998, James Allen and Michele Schultz united to found dirtcheapdiamonds.com – becoming one of the pioneering forces in successful online jewelry retailing. In 2005 they became known as James Allen after the e-commerce platform R2Net was formed and they joined forces. Today they are now owned by the same group as Blue Nile (and others) called Signet Jewelers, so whilst I am listing them as an alternative to Blue Nile they are going to be undoubtedly similar.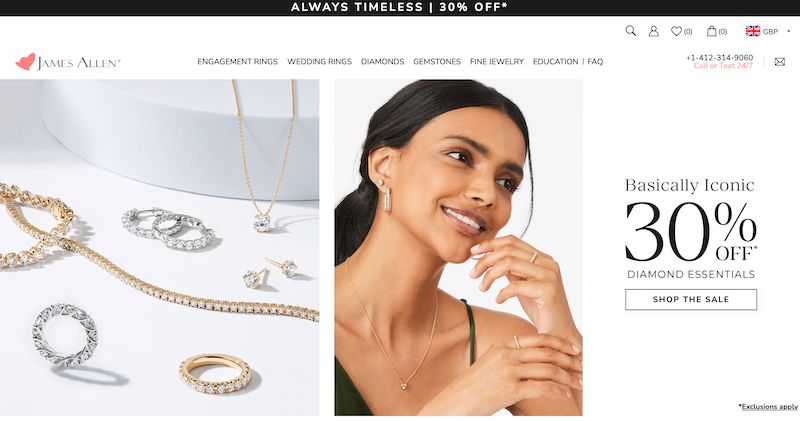 So what makes them stand out? Firstly their 360° HD diamond images. You can view a stone from every angle and get an in-depth look to make sure the diamond meets your needs. In addition to this, they also offer unrivaled customization options when it comes to engagement rings, letting you create something unique that is tailored just to you.
In terms of pricing and selection, James Allen is competitive with Blue Nile and other vendors, so you won't be paying much more than if you were to purchase from Blue Nile and the selection is on par with them as well.
3. Brilliant Earth
I have been a fan of Brilliant Earth for many years now and they deserve an honorable mention in this list. They are well known in the industry as a socially conscious jewelry retailer and specialize in creating unique, ethically sourced pieces. They are dedicated to providing customers with conflict-free diamonds and responsibility-sourced gems that will give buyers confidence when making their purchases.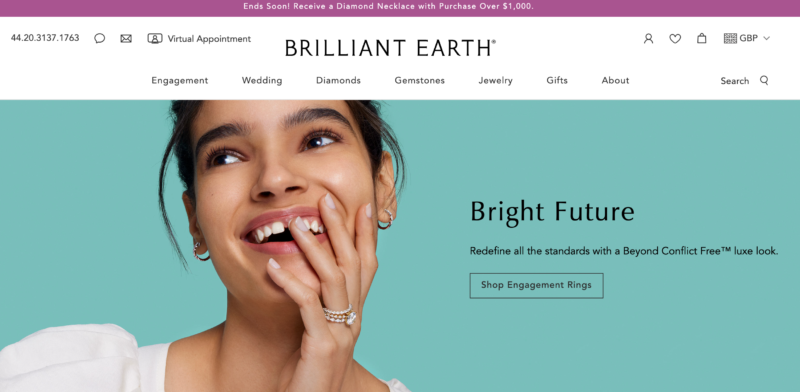 They offer an extensive selection of certified diamonds, fine metal settings as well as lab-created gemstones – all at competitive prices. Whether you want an ethically sourced engagement ring or a unique piece of jewelry, Brilliant Earth is the place to go.
4. Tiffany & Co
When it comes to fine jewelry and diamonds, the Tiffany & Co name reigns supreme. They have been in the industry since 1837 and are still considered one of the world's premier jewelry retailers.
At Tiffany & Co you can find a wide selection of high-quality diamonds and unique engagement rings – all made with exceptional craftsmanship and attention to detail. They also offer the option to customize your own ring or create a one-of-a-kind piece in their Design Studio. No two pieces are the same and they are sure to make a lasting impression.
Tiffany & Co may not be the cheapest option out there, but if you are looking for top-quality diamonds and craftsmanship then this is the place to go. If you have the budget, it can be worth it!
5. Jared Jewelers
Jared Jewelers is a popular choice for diamond jewelry, with five stores in the US and over 250 locations across North America. They offer an expansive selection of rings, earrings, necklaces and bracelets to suit all budgets as well as certified loose diamonds and settings. Jared are owned by the same group (Signet Jewelers) that own Blue Nile, James Allen et al.
What really sets Jared Jewelers apart though is their partnership with Leo Diamonds. Leo Diamonds are specially cut and certified diamonds that have been designed to maximize sparkle – all at an affordable price. With the help of the Jared Jewelers team, you can pick out a perfect diamond and setting to create your dream engagement ring.
Conclusion
There are a lot of great alternatives to Blue Nile when it comes to buying diamonds and jewelry. Each retailer has its own advantages, whether it's the selection, price or quality – so it's important to do your research and find out which one is best for you.
No matter which option you go with, you can be sure that you will be getting a diamond of the highest quality and craftsmanship. If you need any additional help, please feel free to get in touch with me directly or view my selection of vendor reviews. Good luck!