This page contains references to diamonds or engagement rings from different companies. Sometimes I do receive a commission when you click on links and buy the products.
The concept of a 'traditional' engagement ring has progressively become a thing of the past. In a new market with endless styles and variations, it is understandable that many prospective buyers feel overwhelmed by the sea of technical jargon and complex terminologies.
Choosing a setting may be more important than you think. While personal taste and style is usually paramount when deciding on a ring style, each setting serves a specific purpose which contributes to the overall durability and, of course, look of the ring.
To make this decision a little easier, I have outlined some of the most popular setting styles and their functionality so that you can decide which one is the perfect choice for yourself or your intended.
Claw & Solitaire Settings
18k White Gold Vatche 191 Swan Solitaire Engagement Ring
A claw or 'prong' setting is considered one of the more classic options for an engagement ring. It features small claws of metal that grip and hold the diamond in place. The style usually features four or six claws, although in some cases as many as eight claws will be used to hold the diamond in place. The shape of the claws can vary; you will notice that some create a V shape beneath the diamond, a popular choice for a princess cut stone. Other shapes are pointed, flat, and round.
Pros

A claw setting is all about championing the diamond. It is elevated, therefore allows light to easily access the stone, ensuring maximum sparkles and brilliance.
The setting is easily cleaned either at home or by a professional.
The elevated setting also means that most solitaires are 'wed fit', meaning a wedding band will sit comfortably beneath them.
Can accommodate for almost any shape of diamond.
The setting has stood the test of time and continues to be an elegant and classic choice.
Cons
As the setting stands proud, there is a possibility that the stone will be knocked or catch on things. This is particularly true when the setting is holding a large diamond.
Pointed claws can scratch and snag at clothing. People who wear latex gloves for work will find that a solitaire setting can easily tear through these.
Over time, claws will loosen meaning the diamond could be lost. This is easily prevented with regular jewelry checks.
Bezel/ Rub-Over Setting

James Allen Platinum Bezel Set Diamond Engagement Ring
A bezel or rub-over setting is also an extremely popular choice for an engagement ring setting due to its beauty and practicality. A small rim of metal holds the diamond in place, meaning there is no possibility of scratching or snagging clothing. As the name suggests, one can 'rub-over' the diamond smoothly.
Pros
The style gives a clean and modern appearance.
The setting is extremely secure. The diamond is protected, lowering the risk of chipping or losing the stone.
It is a very tactile setting. It is smooth to the touch, meaning it offers comfort to the wearer and diminishes any risk of scratching or snagging on things.
It is easy to clean, even more so than a claw setting, as there are no small, hidden areas where dust and dirt can get trapped.
Cons
The nature of the lowered setting means less light is able to access the diamond. This means a diamond in a bezel setting can appear less sparkly.
The metal rim that secures the diamond also hides a small amount of its surface area, so the stone can appear smaller.
Tensions Setting
James Allen 14K White Gold Contoured Twist Engagement Ring
A tension setting uses the pressure of a specially designed band to hold the diamond in place, giving the illusion that the diamond is simple touched by the metal on either side. Small grooves are cut into the band to ensure the diamond sits tight within the setting. The diamond is then anchored at the back with prongs or a basket design to hold it in place.
This setting truly demonstrates the complex engineering that goes into a setting. The principles can be applied to a number of band styles (sweeping, geometric, etc.) and can hold a number of diamond shapes.
Pros
The minimal metal increases light return and sparkle.
The look and design of a tension setting is extremely unique, and can truly enhance the beauty of a diamond.
It is an easy setting to clean and maintain.
Despite the precarious appearance, it is actually a secure setting and popular choice for an engagement ring.
Cons
They are unsafe – a knock to the diamond can remove it from the ring completely. Some jewelers refuse to work with tension settings to avoid the risk. Make sure that if you do purchase one, get insurance. Some rings appear like a tension setting however they have a bar underneath.  You can find an example of one here: Whiteflash Platinum Iris Solitaire Engagement Ring.
Due to the exact measurements that go into a tension setting, they can be very difficult to resize.
You may be required to purchase a matching wedding band or have one specifically designed to fit beneath the engagement ring. Many tension settings are not 'wed-fit', meaning a traditional wedding band will not sit flush beneath them (although this is not always the case).
Channel Setting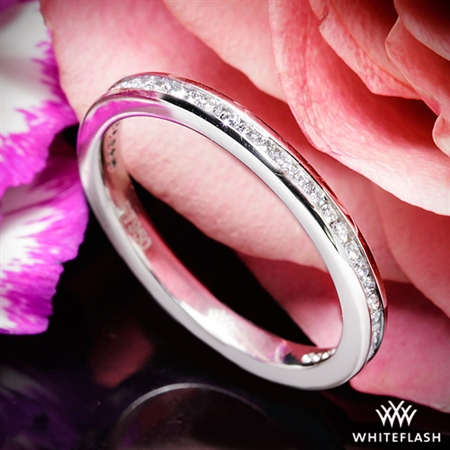 Whiteflash Platinum Honey Channel-Set Diamond Wedding Ring
Channel setting is used to secure rows of smaller diamonds alongside a solitaire, or in a band in their own right. The stones are held by the grooves of the channel without claws. This style of setting is most commonly used for round brilliant or princess cut stones but can actually be used for almost any shape of diamond.
Pros
Unlikely to snag or scratch due to the lack of claws.
A great way to display the beauty of small diamonds.
Will enhance a center stone, adding detail and sparkle.
A great option for those who want to opt out of a traditional solitaire.
A channel set band will allow the wearer to stack other bands around it with ease.
Cons
Gaps and grooves will require more attention when cleaning.
A full eternity channel band (with diamonds all the way round) is almost impossible to resize. In most cases, it is easier to simply remove the stones and re-set them in a new band, which is more expensive than a simple resize.
Even when the channel setting is not a full eternity, re-sizing can still be tricky, as changes to the band can compromise the stability of the channel set stones.
Pavé Setting

James Allen 14K White Fold Petite Pavé Engagement Ring
Taken from the French 'to pave', the intention of a pavé setting is to give the impression of a paved surface of diamonds and sparkle.
The diamonds are set into small holes that are drilled into the band. After this, the spaces between the diamonds are filled with tiny beads and droplets of metal, giving a continuous covering until the band is no longer showing.
A pavé setting is also used for setting very tiny diamonds in the same style, although this is sometimes referred to as 'beading' or 'micro-pavé'.
Pros
Can provide lots of additional sparkle to a ring.
The setting is more forgiving than a channel setting. The eye is distracted by the metal and the sparkle meaning smaller or slightly lower quality diamonds can be used.
Offers style flexibility as the setting can be used to enhance both modern and retro-style rings.
Cons
There is a small risk of losing stones from a pavé setting over time.
The setting itself can sometimes feel rough to the touch.
Re-sizing a pavé ring is difficult.
Illusion Setting
Ernest Jones 9ct White Gold Diamond Illusion Set Solitaire
Unlike the other settings we have looked at, an illusion setting is a more encompassing term which is simply defined by any method used by a jewelry maker to give the appearance of a larger diamond, or of one complete diamond.
This can be achieved in many ways. The ring above uses a faceted metal halo to give the impression of a larger stone.
Starla 6 Claw Solitaire Effect Diamond Engagement Ring
This ring uses a pavé diamond setting to give the impression of a large solitaire (when viewed from a distance)
 
 Illusion Set Pear Shape Engagement Ring
This ring uses various diamond shapes to create the illusion of a full pear cut solitaire
Other methods include using metal chips between the diamonds to give the impression of a larger stone, or simply setting tessellating stones very close to each other to create the illusion.
Pros
Illusion settings are often used by people who are on a tight budget but want a ring that gives size and impact.
If diamonds are used in the illusion (as oppose to metal work) the ring can still be very sparkly.
Cons
Most illusion settings are easily detected by eye.
Metalwork can detract from the natural brilliance of any diamonds used within the setting.
The ring will not have the clear, clean-cut finish that is achieved by using a single stone.
Halo Setting
Ritani French-Set Halo Diamond Engagement Ring
A halo setting describes a center stone that features a continuous row of diamonds or gemstones around it. A halo can be used to enhance any shape of diamond, and while pavé is usually the first choice for a halo design, channel, and claw settings are also used.
A halo is a great way of maximizing the size of a ring and adding additional sparkle to a center stone. Some pieces of jewelry will feature double or triple halos.
Pros
Secure way to hold and protect the center stone.
A halo may be a great way to add a unique twist to a ring by using colored diamonds of gemstones.
It complements and enhances a large array of diamond shapes.
Can be used to give the impression of a larger diamond.
Cons
Small stones may become loose over time.
The addition of diamonds and metal work means more attention to detail is needed when cleaning.
Cathedral Setting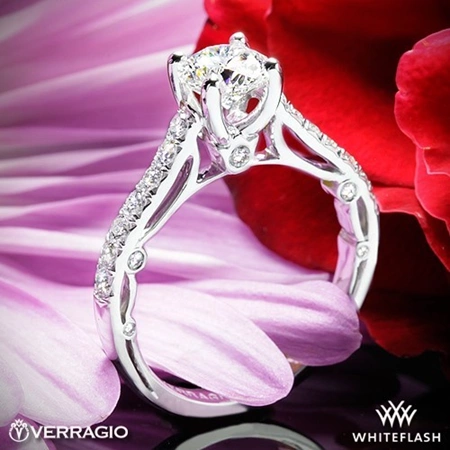 18K White Gold Verragio Bead-Set Cathedral Diamond Engagement Ring
A cathedral setting uses high arches of metal to attach the setting to the shank. Bezel, prong and tension settings can all be enhanced and elevated by a cathedral setting.
They can be heavily stylized, with intricate metalwork making them a good alternative for those who want that extra something without adding additional diamonds.
Pros
Gives a prominent, statement appearance.
Adds detailing and finish at a lower cost than adding diamonds.
Accentuates the center stone.
Cons
Cathedral settings are often mounted quite high to display the metal work. This means the ring can get caught on things quite easily.
Less appropriate for an active or hand on lifestyle.
The intricacy means there are lots of little spaces that will require cleaning.
Bar Setting
James Allen 18K White Gold 1.00CTW. Bar Set Diamond Anniversary Ring
A bar setting is a modern and sleek technique, where diamonds are set using bars of metal on either side of the ring. It shows more of the diamond than a channel set but offers a similar level of security as the diamonds are also anchored by metal at the back.
Pros
The lack of metal and exposed style of the setting means the diamond gives a great sparkle.
A single bar set band can be easily stacked with other rings.
Gives a clean and simple look to trilogies and solitaires allowing the diamond to take center stage.
Very secure.
Cons
The exposed style also means a greater chance of chipping the stones.
Re-sizing can be costly and complex.
Flush/Drill Setting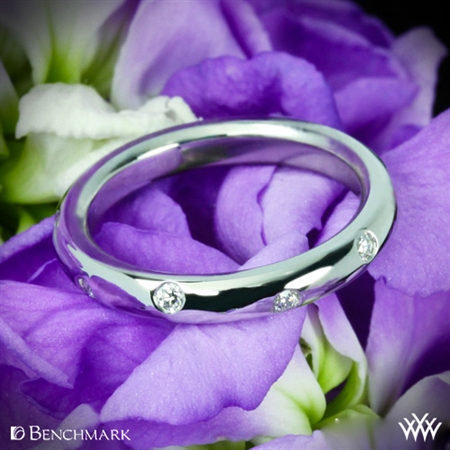 Whiteflash 3mm 14K White Gold Benchmark Scattered Diamond Wedding Band
A flush setting (also known as a drill or gypsy setting) offers the highest security to the wearer. A stone is set into a drilled hole in the band, and the surrounding metal is hammed into place so it sits flush to the band.
A flush setting is only suitable for the hardest stones (such as diamonds or sapphires) as the intense process of hammering can damage softer stones such as emeralds.
Pros
Significant protection and security to the diamond.
Offers comfort and peace of mind to the wearer.
Practical and functional. The setting cannot be caught on clothing or scratch skin.
Rings can be stacked, and additional stones can be easily added in the future if desired.
Cons
Some may find the style a little too subtle as there is no height.
Reduces visibility of the diamond.
The closed setting reduces the amount of light reaching the diamond which limits brilliance.
Cluster Setting
James Allen 14K White Gold Grande' Floral Diamond Cluster Engagement Ring
A cluster setting describes diamonds that are set closely together to create an overall shape. Clusters can be used to create a similar effect to an illusion setting, however the focus is less on creating the impression of one diamond, and more on maximizing style and sparkle.
A cluster setting will often give a vintage feel to a ring and can feature stones of varying shapes and sizes.
Pros
Can give the overall impression of a larger ring with a greater impact.
Offers a great sparkle.
A cost-effective alternative to one large diamond.
Although clusters are usually associated with a vintage style, they can also be designed into modern pieces.
Cons
The textured surface can be rough to the touch, increasing chances of snagging clothing.
Smaller stones can become loose.
Requires more attention to detail when cleaning.
Eternity Band

Hearts on Fire Channel Diamond Eternity Band
An eternity band describes a style rather than a setting. It features a full row of diamonds in a band that goes on for 'eternity'. Modern tradition sees partners giving these rings after the birth of a first child, however they are also used as wedding bands, engagement rings and gifts to mark significant events.
An eternity band can set with prong, channel, pave, and flush settings. While diamonds are a traditional choice, an eternity band can be set in any precious stone, adding color to a traditional wedding stack or simply being worn alone.
Pros
Add infinite sparkle meaning they look great when placed with other bands but can also be worn
Securely holds smaller diamonds in place.
Can be used to add additional color to a ring stack.
Cons
Very difficult to resize, in fact many jewelers will not offer a resize option at all.
Requires regular and detailed cleaning to ensure maximum sparkle.
Detailed Shank Setting

Hearts on Fire Camilla Split Shank Engagement Ring
A shank refers to the actual 'ring' part of the ring (the part that encircles your finger). These can split, as we can see in the example above, or twisted into unique shapes as we see in the example below.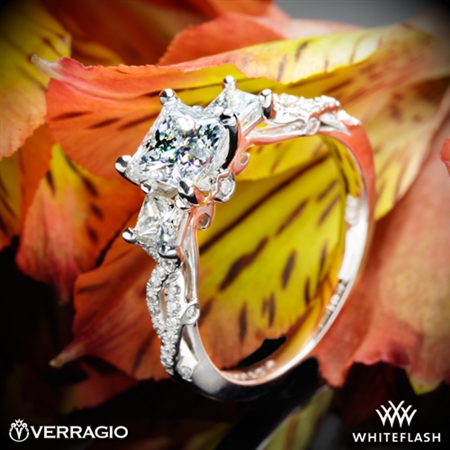 Whiteflash 18k White Gold Verragio Twisted Shank Princess 3-Stone Engagement Ring
Pros
Gives a unique and eye-catching appearance.
Can be adorned with additional stones for extra sparkle.
Adds fluidity to a design.
Cons
Harder to clean.
Can be difficult to find an accompanying wedding band that will fit snugly beneath the ring.
Can be less practical than a traditional band.
The Final Word
Choosing a setting ultimately comes down to two factors; taste and practicality. With so many unique styles and combinations available, there is no reason why both requirements can't be fulfilled.
Think about how to get the most out of your setting, and which will offer the greatest enhancement to your diamond. Experiment with combining style features (e.g., a prong set solitaire with a split shank, a channel set band with colored stones) to create the look you are after. Consider how much maintenance you are willing to give your ring, and how much comfort it offers as some styles will be less practical for an active lifestyle than others.
After you have completed your search for the perfect setting, be sure to find the perfect diamond to accompany it.