Flower engagement rings are distinctive and timeless. They offer an abundance of sparkle and a unique silhouette that is certain to turn heads. If you are considering a flower engagement ring for your beloved (or selecting one for yourself) this guide will tell you everything you need to know about this sensational setting.
What is a Flower Engagement Ring?
A flower engagement ring uses a large central diamond (most commonly a round brilliant) that is adorned with several smaller diamonds to create the effect of petals. Many designers use the 'flower' technique to enhance their designs with artistic, botanical touches that draw from nature.
Flower engagement ring settings are often listed as cluster settings. They can take many forms and styles, with some clusters naturally emulating the flower shape more than others.
James Allen Pave Flower Engagement Ring: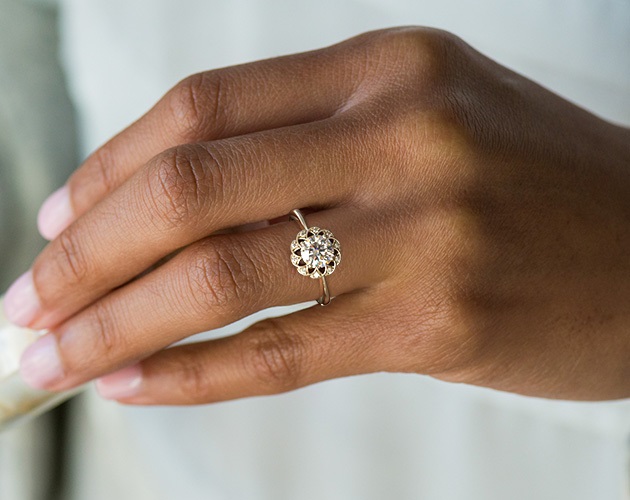 Cluster settings should not be confused with illusion settings. A cluster uses smaller diamonds to enhance a stunning central diamond. Illusion settings use lots of tiny diamonds (or metal beads) to create the effect of one diamond. Illusion settings can be pretty, but more often they are sold by low end jewelers.
An example of a Zales Illusion Setting:
A cluster setting is also different to a halo. A halo emulates the shape of the central diamond (again, typically round but halos can feature on any diamond shape) whereas a cluster uses the adorning diamonds to create a flower shape.
Pros of Flower Engagement Rings
There is a lot to love about flower engagement rings. Aside from the initial beauty, there are various cost benefits to choosing this setting. Here are some of my favourite features:
The most expensive part of an engagement ring is the central diamond. Finding a high-quality diamond with a decent carat weight is where most of your money is spent. A flower engagement ring setting creates impact on the hand giving the impression of a much larger ring. Even a modest 0.30ct diamond will become an impressive, powerful engagement ring when placed in a flower setting.
Flower engagement rings comes in a variety of styles. The cluster is a traditional shape with a vintage feel – perfect for retro enthusiasts. Despite its classic roots, designers have also created contemporary-style settings that are perfect for a floral-loving millennial bride.
The smaller diamonds that build the flower shape bring extra light and sparkle to the engagement ring, illuminating the central diamond for impressive brilliance.
Cons of a Flower Engagement Ring
All settings have their quirks – a flower engagement ring setting will need regular cleaning to keep it looking its best. It is also a good idea to have annual check-ups on your ring to ensure the smaller diamonds do not become loose in their settings.
Top 5 Flower Engagement Rings
Here are some of my stand out choices for a flower engagement ring setting – in each case, the craftsmanship is of the best quality and the finish is sublime.
Tacori's signature crescent features perfectly compliment the undulating, diamond petals in this flower engagement ring. A classic shape that is brought into this century with delicate metal detailing.
James Allen Grande Floral Engagement Ring:
Why have one flower when you can have the full bouquet? James Allen use G-H color diamonds in their twinkling ring for a spectacular bloom with big impact.
Leibish Extraordinary Pink Flower:
Whiteflash Verragio Split Shank Solitaire:
James Allen Floral Rose Gold Halo:
A classic floral design showing the antique features of a flower engagement ring. The use of rose gold in this James Allen setting brings a vintage warmth to this delicate diamond ring.
Due to the number of small diamonds used, it is imperative that a flower engagement ring setting is made to the highest standards. This will protect against loss of diamonds and damage.
The additional sparkle that the surrounding diamonds bring is only present when high-quality diamonds are used in the setting. Look for designers that specify the quality of diamonds used in their halos/melees or any other diamond accents. Certification is not required for such small diamonds, but a rough guideline will let you know if the diamonds will deliver the sparkle you are looking for.
Where to Buy Flower Engagement Rings