This page contains references to diamonds or engagement rings from different companies. Sometimes I do receive a commission when you click on links and buy the products.
We know how daunting it can be purchasing an engagement ring. Long gone are the days when you could walk into a jewelers and be guaranteed the best value possible. Today's market is fast paced and competitive with hundreds of online jewelers wanting your custom, each one promising to be better than the next. So what do you do? First of all, don't worry, buying an engagement ring online need not be as scary as you first thought, I've compiled the Top Five Places to Buy an Engagement Ring Online.
Whiteflash
Whiteflash are one of the leading diamond suppliers in the world and are one of our highly recommend online retailers for Designer Engagement Rings such as Tacori, Simon G. Verragio, Vatche, Ritani, Benchmark and Danhov. Whiteflash is also the producer of the exquisite A CUT ABOVE® Hearts and Arrows certified diamonds. So what else sets Whiteflash out from the others?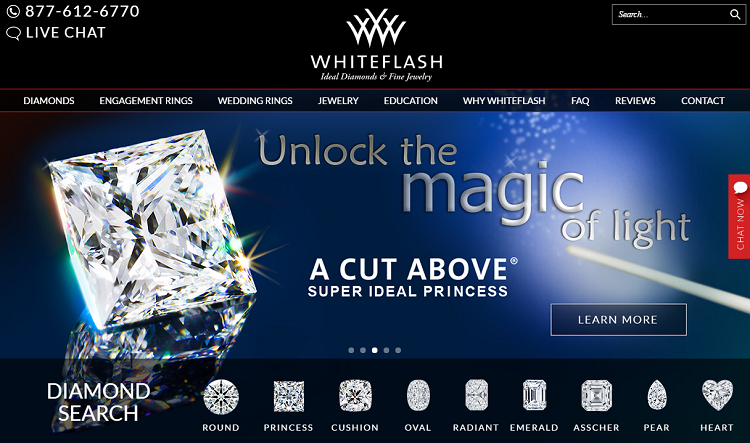 The Largest inventory of in-stock ideal diamonds with proven light performance.
Highest quality lab grown diamonds with their Precision Lab Brand.
Expert Consultation with GIA trained staff.
Outstanding customer service with tens of thousands of satisfied customers and 5 Star Ratings on iVouch, Yelp, and Google +.
An extensive inventory of designer rings from some of the best designers in the world.
Custom design facility for creating a ring unique to you.
A transparent and customer focused availability of in-depth data like magnified images, hearts and arrows data, Idealscope/ASET and 360 HD videos.
100% lifetime trade-up on their branded diamonds with no strings attached! Best trade up policy in the industry.
2021 BBB Winner Of Distinction – Marks over 15 Consecutive Years of BBB Awards
Free International Shipping.
The only jeweler to have been awarded certification by the ABS for their ISO Quality Management System.
For our full review of Whiteflash, please click here.
James Allen
James Allen revolutionized the way that customers viewed their diamonds by offering a brand new 360° imaging of each and every diamond. A transparent approach to the availability of information teamed with a crisp and clean website makes the James Allen an experience to enjoy and remember. What else do we love about James Allen?
Over 40,000 diamonds available.
360° imaging of every diamond and the facility to see what they look like in real life.
James Allen only sell AGS and GIA certified diamonds.
30 Day Returns policy.
Lifetime warranty for all jewelry.
A build your own ring feature with hundreds of options.
Free shipping across the world.
Conflict free diamonds.
Personalized engraving service.
If you want excellent quality and are happy to pay for it, James Allen is the ideal place for you. Please read our full review of James Allen for more information.
Blue Nile
With a clean and easy to understand website, Blue Nile is an appealing choice for customers wanting to purchase a ring online. Blue Nile are one of the most recognized online diamond retailers in the world but what does Blue Nile offer for consumers? Unfortunately, there are several aspects of the Blue Nile experience that we don't like. For instance unlike James Allen and Whiteflash, Blue Nile doesn't have pictures of their diamonds which means it's difficult to reliably evaluate the diamond, however, there is a phenomenal amount of settings and diamonds on offer.
Over 100,000 diamonds available to order.
Free shipping.
30 Day Money Back Guarantee.
Conflict Free diamonds.
Some of the lowest prices available.
Build Your Own Ring®
Huge choice of settings and detailed drawings.
We wrote a full review on Blue Nile. Please click here to read it.
Ritani
Ritani is one of the major designers in the diamond engagement ring market. Having the benefit of an online store and bricks and mortar stores, as well as carefully selected partners, including Whiteflash, Ritani has a business model which obviously works. A website that is crammed full of information, especially the educational section, as well as beautifully showcased products gives Ritani the upper hand in comparison to a lot of other online retailers. Here is what we love about the Ritani online store.
Beautiful and high quality diamonds which are GIA certified.
An online gemologist as well as an abundance of information available about the diamonds, including interesting and informative educational videos, blogs and articles.
HD videos and 20x magnification of their diamonds.
30 Day Money Back Guarantee.
Free shipping.
A clear and easy to use website which is simple in design while still feeling exclusive.
A designer brand which is easily recognised across the world.
1000's of customer reviews and testimonials for their service and products.
We have a full and extensive review of Ritani. To read it, please follow the link here.
Tiffany & Co.
The Tiffany & Co brand has become a signature name across the 4 corners of the world for both its beautiful designs, exquisite service and of course, that little blue box. What we don't actually like is that as far as buying a ring online goes, you can't actually buy one online – which kind of defeats the object of having an online store. Of course, while Tiffany is using a website to showcase their jewelry, it just isn't possible to buy one of their rings without going into a store. What Tiffany & Co. can offer on their website though is:
A world famous and coveted after brand of jewelry with a long standing history.
Lifetime warranty and cleaning warranty on all jewelry.
Free delivery on orders over $150 on any item apart from diamond rings.
A classy looking and beautifully designed website which is full of imagery.
Leibish & Co.
If you're looking for something a little different  I highly recommend Leibish & Co. They are an internationally renowned specialist and online dealer of natural, colored diamonds and colored diamond jewelry. The brand is one of the largest online sellers of colored diamonds, offering a variety of both fancy and ideal cuts in various hues, clarities, and sizes set for any budget.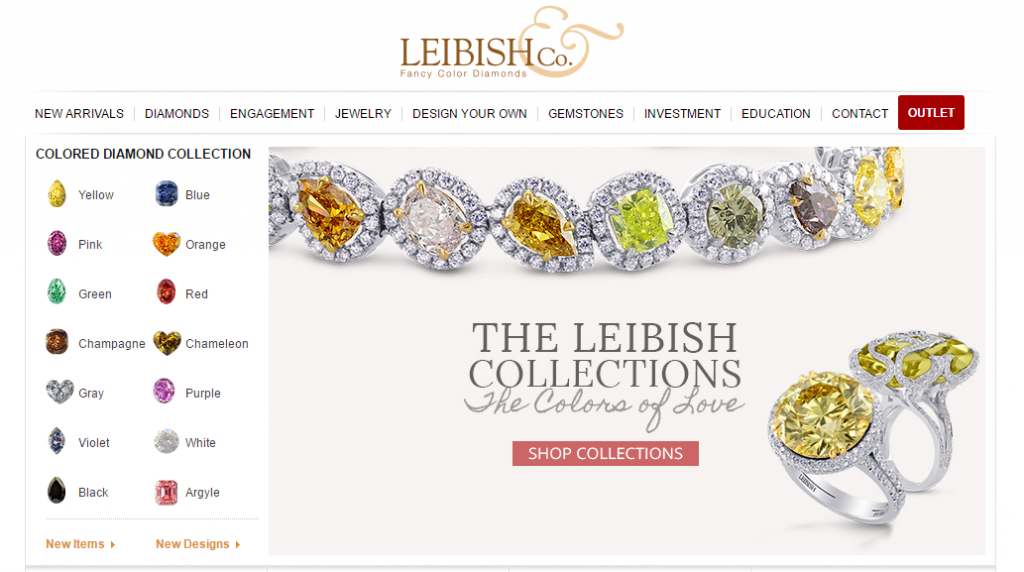 Of course there are plenty of other online diamond retailers out there which will match any budget but one thing we will highly advise is that you educate yourself before embarking on the purchase of an engagement ring online, so you are sure that what you are seeing is exactly what you will get and allow you, as the customer to make an informed choice about what you are purchasing.