An engagement ring is intended to be worn every day, or at least as often as possible. It becomes an extension of yourself, a constant reminder of your eternal love for your partner. For this to be possible, an engagement ring must tick a lot of boxes.  Beauty, comfort, durability, practicality…the right ring will hit all these areas and only then can it truly be 'the one'.
The width of an engagement ring band will impact on a lot of these areas. As the appeal of wide, statement bands continues to grow, many brides to be are opting for wide band engagement rings.  If you are considering a wide band engagement ring, this guide will cover all you need to know so that you can find the engagement ring of your dreams.
What is a Wide Band Engagement Ring?
The width of rings is expressed in millimetres. The standard width for an engagement band is 2.5mm and anything over 3mm is considered a wide band. Traditionally, men's rings are wider; the average width for a wedding band is 8mm and there are a few reasons for this.
The first comes down to diamonds. Engagement rings usually feature diamonds of gemstones and getting the proportion of metal to diamond correct is important. A 0.25ct diamond set on a 5mm band in a solitaire style would lack balance and the diamond would lose prominence. The second reason is hand size – with men's hands generally larger than women's, a ring must also be proportionate to the wearer.
The guidelines around balance and proportion are still significant, however with less set convention surrounding engagement rings, modern buyers simply choose the ring that appeals to them the most.
Pros & Cons of a Wide Band Engagement Ring
✓ A wider band is more durable than a dainty band. For those with an active lifestyle who know that their ring will come up against wear and tear, a thicker band offers more security, with less chance of thinning or bending.
✓ If setting with diamonds, a wider band offers more opportunity to showcase sparkle.
✓ Defying dainty convention! Wide bands can make a dramatic statement, perfect for those who want their ring to stand out.
✓ Wide band engagement rings featuring a bezel set diamond is a current trend amongst brides and grooms to be. A bezel setting keeps the diamond fully protected, adding further durability to this powerful design.
✕ Wider bands require more metal, and this bumps up the price of the ring. Some wearers, particularly those who are not used to wearing jewelry, may find this additional weight uncomfortable.
✕ If you have small hands, a very wide band can make it difficult to close your hand leading to comfort issues.
✕ If you do not strike the correct balance, a wide band can overshadow and detract from your central diamond.
The Best Wide Band Engagement Ring Styles
A wide band can lend itself to a multitude of styles. Finding the right width and the right style will come down to lifestyle, budget and personal preference. Here are some examples of designers using wide bands in their creations.
Ornate and Elegant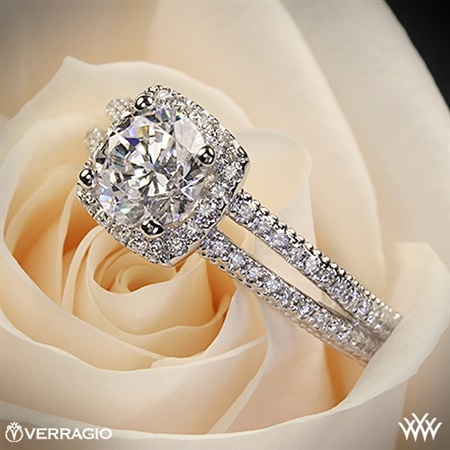 The Verragio Venetian Lace engagement ring features a split shank. This means it gives width and presence on the hands, while tackling the issue of metal weight. Split shanks are a good option for those looking for width, while maintain a delicate appearance.
Or perhaps this Monique Lhuillier Petal Garland Diamond Engagement Ring from Blue Nile:
Statement
At 6mm in width, this Whiteflash Half-Bezel set engagement ring shows a wide band being used to a contemporary effect. Durable and unique, it is bang on trend and makes a dramatic statement.
An alternative to this would be this Flat Solitaire Engagement Ring from Blue Nile:
Stacking Style
Another popular wide band style is a stacking effect. This Ritani French set engagement ring features two rows of diamonds to give the impression of stacked bands. A great way to add width while maintaining balance with the central diamond.