Filigree is a design method full of heritage, and has stood the test of time. The word 'filigree' is generally used to describe metal which has been given an intricate and ornamental design style. However, in the realm of fine jewelry, filigree has a more specific definition.
In this realm, filigree is the use of pliable threads of either white gold, rose gold, yellow gold, or platinum, which are finely and delicately made to twist into complex, organic designs. Scrollwork, tiny motifs, lacework, natural forms—these are all created through the use of filigree in jewelry.
A stunning example of an engagement ring that utilizes filigree (and milgrain) within its design. This Old Hollywood Milgrain and Filigree Ring is offered by Brilliant Earth, and evokes the kind of glitz and glamour that was associated with Hollywood in its prime.
With the increase in interest in antique and vintage-looking rings (engagement or otherwise), more and more people are turning to filigree rings to satisfy those desires. They're a unique statement, a sign of commitment, and an appreciation of the finer things in life.
The Origins of Filigree
From an etymology standpoint, the word 'filigree' was shortened from the earlier English 'filigreen', a word which takes root in two Latin words, 'filum', and 'granum'. The former means wire or thread, and the latter means seed. Filigree designs have been found for centuries, with some of the earliest known examples coming from the ancient Greeks and Mesopotamians. Some of these date back to 3000BC, which just shows you the longstanding love affair human society has had with this grand art form, a style of jewelry which has been found in many major cultures around the world.
In Mesopotamia, filigree was known as 'telkari'—a word which is still used today in similar areas. There has been multiple discoveries of filigree used in the jewelry of ancient Mediterranean countries, such as ancient Greece and Phoenicia. It was also a style utilized in India and Iran (where it was called 'malileh'). Filigree was a popular style in the Byzantium Empire, which was later imitated by Christian monasteries in their reliquary.
Across Europe, filigree was mainly included in ecclesiastical goldwork, and was practised in Moorish Spain using silver. Later on, filigree came back into vogue during the Edwardian era in England and was carried into the early twentieth century, which is where the current interest in vintage rings can be traced back to.
Today, filigree is associated with more natural, organic, and feminine designs. It had a large use within both Art Nouveau and Art Deco movements, and has also been associated with Celtic designs.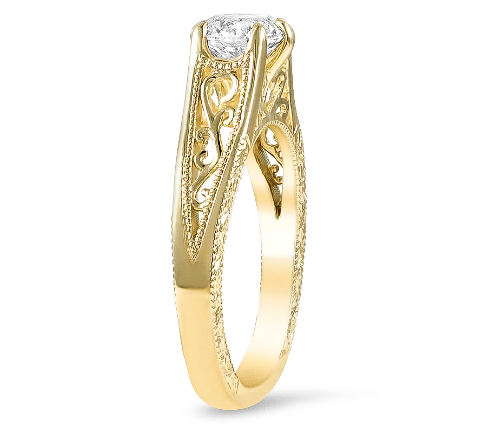 Filigree rings have kept their ornate and regal heritage over time, where they are successful in invoking thoughts and feelings of times and cultures long since gone. Image credit: Brilliant Earth
The Benefits of Filigree Rings
Buying a filigree ring comes with three distinct advantages:
Lower pricing: Since filigree actually uses less precious materials, such as gold or platinum, in its creation, it can be a relatively inexpensive way to decorate a ring.
Filigree offers a moment of unique design for the wearer, as it's still a rarer style within modern engagement rings. Buy a filigree ring and you will be standing out from the crowd.
As you can tell by the history of filigree, it's a design which is consistently popular, and can be considered 'timeless'.
What to Look For in a Filigree Ring
There are a number of rules to follow when looking for high-quality jewelry. The main one, which I recommend regardless of the style of jewelry you're looking for, is look for a jeweler you can trust. But, if we're specifically talking about filigree, here are four things you need to look for:
Go for unique: Uniqueness in terms of filigree design usually means they've been produced to a high quality by a professional craftsperson, and hasn't been mass produced.
Consider delicateness: Filigree is more delicate by nature, especially in comparison to modern, traditional rings. Think of whether filigree is the right choice for either you or the intended recipient. Do they or you work an intense, manual job in which it could easily get damaged? If so, I would recommend another style.
Inquire about maintenance: Filigree will need looking after more than other ring styles, and so it's worthwhile inquiring as to whether the jeweler you're buying from can provide maintenance and repair when needed, or where you can source these two service from.
Check for sturdiness: If you can see your filigree ring in person before purchase, that's great, as you can have a close look to check the robustness of the ring. This is especially important if you're buying a vintage ring (i.e. an older ring), which may have already been affected by years of everyday use.
Finding a Trustworthy Jeweler
Unsure where to find good deals on high-quality diamond jewelry? Want to skip the laborious research phase where several potential sellers end up being dead-ends? You're in luck. In my years of working within the diamond industry I've gained the insider knowledge on both what to look for in a jeweler, and who is leading the game when it comes to selling the finest quality diamonds, gemstones, and jewelry.
I would personally recommend the following jewelers:
Time and time again, these four companies have proved themselves consistently professional and experienced, and their ranges of the finest diamond jewelry are truly impressive.
If you want more convincing, head to my Retailer Reviews section, where I've personally reviewed a wide variety of high-quality jewelers.
Styles of Filigree Ring
When it comes to filigree, the world is your design oyster. There are so many beautiful styles of filigree ring out there, coming from thousands of years of using the style to embellish pieces of jewelry. Here are some of my favorite styles for you to peruse:
Three Stone Filigree Rings
Image credit: Brilliant Earth
 Due to its ornate style, filigree pairs incredibly well with three stone diamond rings. Using three stones, with a central stone and two flanking stones, recreates a regal feel, the kind you may find adorning the fingers of kings or queens across European history. The example above, an Antique Scroll Three Stone Trellis Diamond Engagement Ring is one of the finest versions of this.
Vintage Style Filigree Rings
Image credit: Brilliant Earth
 Many filigree rings will be designed with vintage in mind—even the modern ones. These combine modern manufacturing techniques with the style and sophistication of times gone by. This Vintage Inspired Filigree Halo Diamond Ring includes filigree, milgrain, and diamond accents to create something truly stunning.
Royal Filigree Rings
Image credit: Brilliant Earth
Truly want to feel like a member of the French aristocracy? Royal-style filigree rings are the option for you. Not a particular style in themselves, but you'll know one when you see one, like the Deco-Inspired Sapphire Halo Ring above.
If you're looking for the more regal aesthetic, opt for a filigree ring that features a large central gemstone of a less common cut style, such as Emerald, Oval, Asscher, or Marquise (you can learn more about diamond cut here).